Almost ten years before Kingman tried it, around 1999, I made a rocking trigger for a Shocker: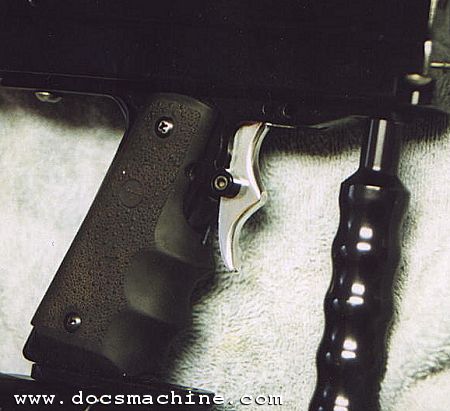 It pivoted in the center and used only one microswitch. At the time I was told- directly- by... what was his name, Bill Cookston? Of the NPPL, that the design wasn't legal. There was some debate, since one could pull just the "upper" half and release it like normal, or pull just the "lower" half and release it like normal.
The NPPL's argument at the time was that the rules said something like a "full actuation of the trigger", which in this case- as they interpreted it- meant a pull-and-release of the upper finger and a pull-then-release of the lower finger. That would produce two shots, therefore wasn't legal.
I tried to argue otherwise, but they were pretty firm- nope, they weren't gonna allow a rocking trigger, pretty much no matter what.
Of course, nowadays, people use the exact same "walking" motion, just with a normal top-pivot trigger, and even unramped rates of fire far exceed the old shoebox's rather limited stock ROF, but at the time, they weren't about to allow it, and wanted to make sure I knew it.
Doc.