Not finished yet. Still need to add more pictures and the second half of how to remove a heli coil. This will get you started
LINK TO HELP:
You will learn alot more here.
Heli-Coil, Helicoil, Helicoil Insert, Helicoil Tap, Helicoil Inserts, Helicoil Gauge, Helicoil Kit, Helicoils, Emhart Helicoil, Bollhoff Helicoil, Helicoil Plus, Armacoil, Armstrong Helicoil
Someone had asked for this help. I just found the last few I had laying around. This will be a two part "HOW TO" Installation and removal of a heli coil.
This is probably one of the easiest things to do in paintball. Have a stripped thread is not a problem to fix. Most people would just shove in a larger bolt. Well all that is, is a temp fix and a bigger cost for you in the long run.
We will be using a 10/32 heli coil.
The kit,buy them on ebay.
[b]CAUTION:
Use a drill press and not a hand drill,cause all you will do is just drill it off center.If you are not comfortable using tools,seek someone who knows what they are doing. Please don't blame me for your mistakes. I would not recommend using keen serts. They require a bigger hole and this is not a good area for a keensert. It is to shallow.[B]
A few things about heli coils:

They are replacement threads.
They require a special drill bit and a special Tap.
They require an insertion tool
You can buy them in a kit with everything you need.
They do not always come in the size/leangth, so they will have to be clipped.
They have to be removed prior to anodizing.
The insertion tool cost more than some guns out there,but it will cost you just as much to send it to some one to do it.
My min charge is $20.00, plus you pay shipping both ways with tracking number and insurance,so that's about $30.00 in shipping alone. Some people charge more
First thing you need to do is clamp the body in the vice: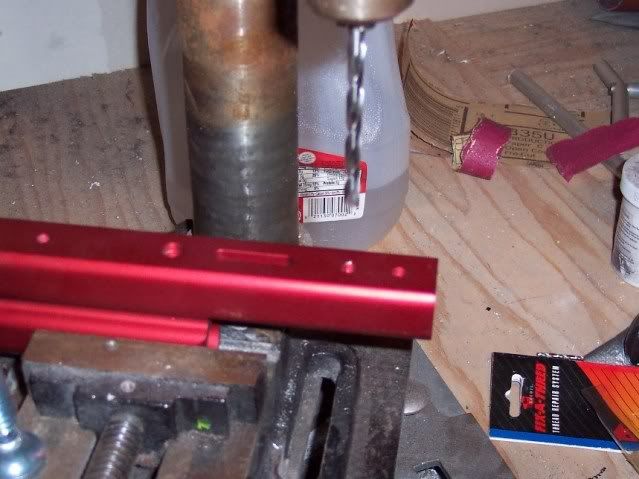 Make sure the drill bit is lined up properly: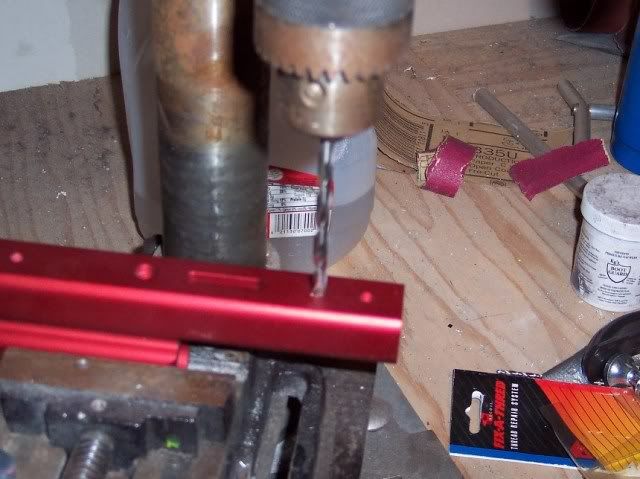 Once everything is lined up. I lower down the drill bit and rotate it by hand. Turning the chuck I make sure I have an even scratch around the whole area I'm drilling.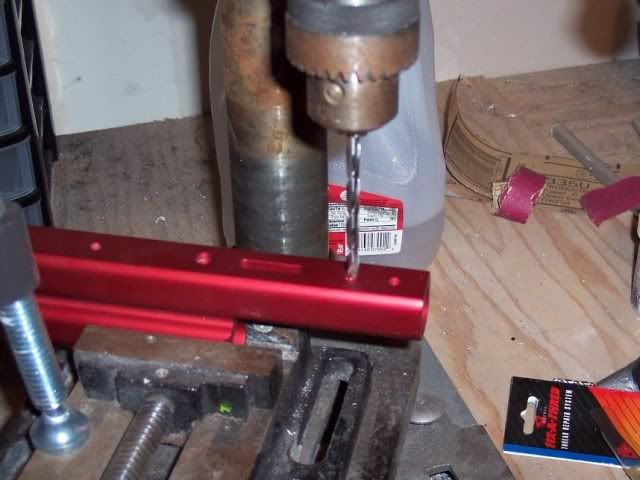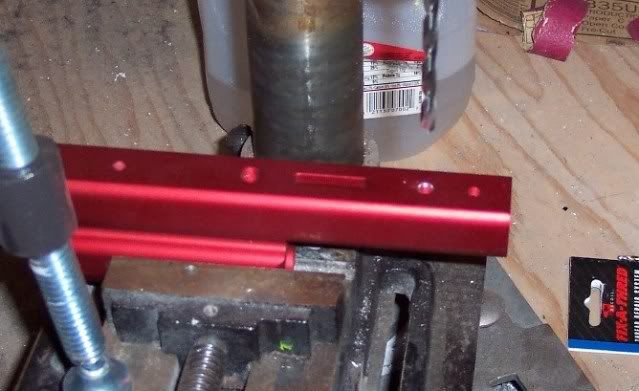 Now let's drill:
I would recommend using some kind of drilling fluid. I didn't use any,because it's such a short drill. I also drill about 2000 holes a yr and insert about 200 heli coils and keen serts.
Turn on the drill at a slow speed. Bring down the bit slow till you are thru: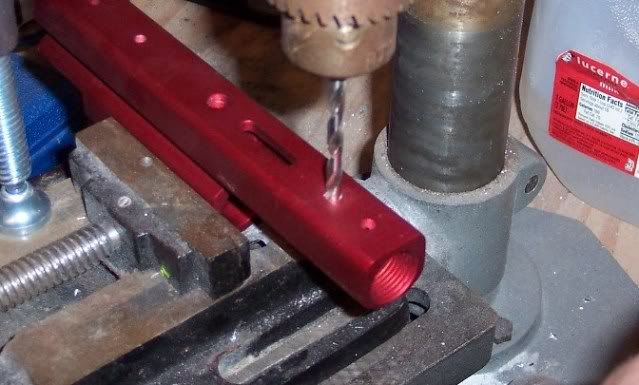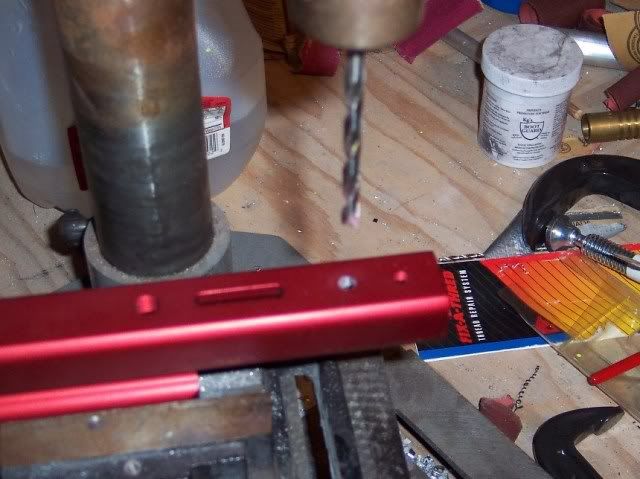 Now let's tap it. You have to make sure the tap starts straight and stays straight. Not much metal is in this area. There is no repairing it unless you weld it or go to a bigger helicoil,but that won't help,cause it's not the thread you need.
Use some tap fluis when doing this.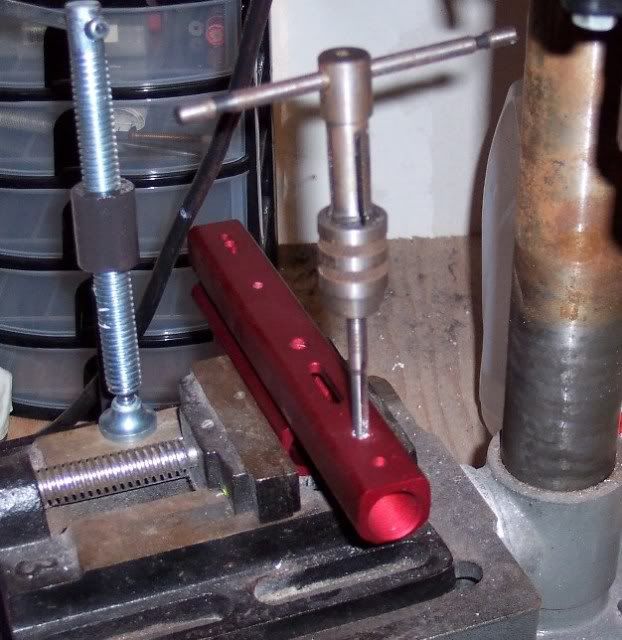 Tap all the way thru: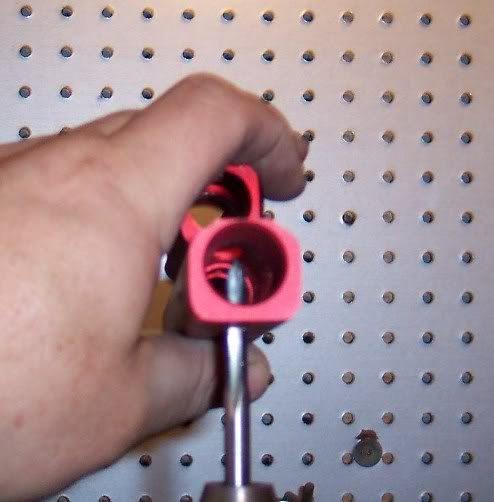 Now it's time to install the heli coil: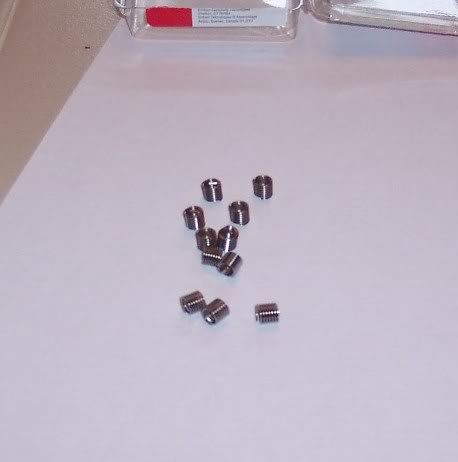 You will notice that they are to long for the area you want to insert into. So we are going to clip it with a pair of wire dykes. You will only need the lower 4 threads. That will include the top half of the thread and the lower half of the thread with the "TAB".
So Technically 3 middle threads and 2 half threads.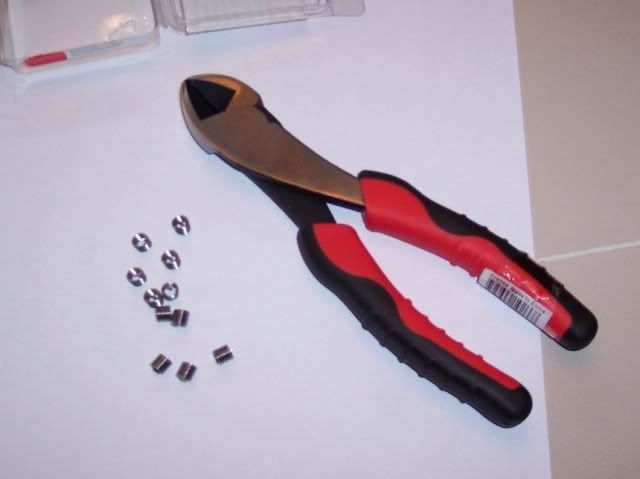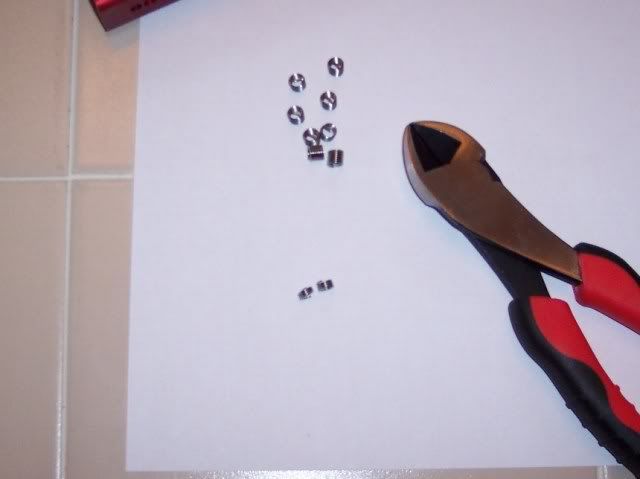 NOTE:
Before we install,you will notice a "TAB" that wil insert into your tool. This is what the tools uses for leverage to screw in the thread (HELI COIL). You will insert in a "CLOCK WISE" turn.
Slide the tab onto the insertion tool. Push the tool and helicoil up against the hole. With a little pressure,start to slowly turn the tool in a
"CLOCK WISE"
direction.
Turn the tool till the threads begin to grab and continue turning till the top thread is flush with the body. Look inside the body to make sure the
"TAB"
or any threads has not gone past the inside thread.
Once you are happy with the threads and everything is sitting flush in the threads,turn the tool "COUNTER CLOCK WISE" with a quick snap. This will break off the "TAB".
So there you have it 5 mins of work total.
I'll add to this later.
Later,
Blackrain