Up for sale is my Ironman project that has taken over a year to get together. You are buying a complete project that just needs a little time and some TLC to finish it.

You will not find a mint condition Ironman like this with sooooooooo many upgrades, most of which were brand new.

Anodizing was carried out by Lasermygun, and is polished black, with neon pink patches and electric blue splash.

Enough talk, check out the eye candy.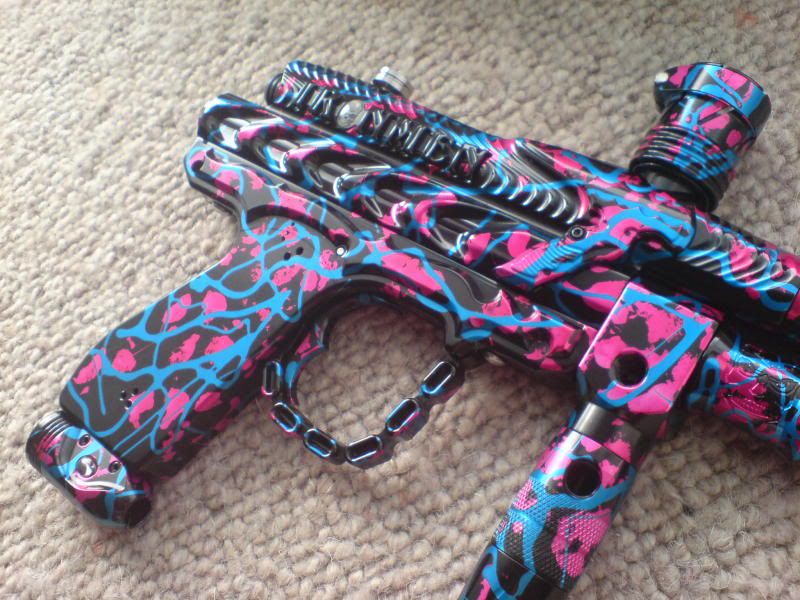 Comes with:
14" Assassins Barrel .691 I think.
Stock 2k2 Ironman frame main body (body has been milled with a flat spot to allow secure seating so NO front block wobble from the mounting screw which was done by Siege here at IOG).
Stock 2k2 LED clam shell frame.
Bob Long snatch grip.
Bob Long direct ASAmount
Ironman Tomahawk eye covers.
x2 Ironman 'Skull' milled 2k2 LPR front blocks (there's a matching second block, as 2k2 front blocks are prone to stripped threads).
CCM feedneck, NEW.
Stock Ironman 2k2 LPR.
Hybrid 'Skull' Volly, NEW.
Stock Torpedo reg.
x2 Shocktech twin o-ring LPR pistons, NEW.
Dragon 2k2 milled and fitted with bearings (milling carried out by Siege).
Stock Ironman trigger guard.
Brand new, never used Tadao 2k2 board (purchased direct from Will Roberson at Tadao, after he found two unused boards during a stock check).
12 pin harness.
14 pin harness, with LCD membrane connection removed.
Eye's.
PBK SnakeSkin 2k2 bolt.
KAPP Thumper ram, NEW.
CP 2k2 ram cap, NEW.
Alias Ram Sleeve.
Stock Alias poppet, including a spring.
Stock Alias solenoid.
Requires:
Ironman logo's to be attached via adhesive to main body.
Macro line and fitting.
Asking price is: $500.00
I know how much time and money has gone into this, and believe me... the buyer WILL be getting an absolute bargain.

Please read the RULES:
a. Price includes PayPal fees and international shipping.
b. I have great feedback... buy with confidence
.
c. Asking price is fairly firm. If you want to make a genuine, and realistic offer, then by all means entertain me. The worst I can say is no.
d. Item will be shipped as soon as the payment is received. Or at least when the post office is open
.
e. International first class shipping is my method of shipping. International tracking is expensive, and if you insist on it, you pay for it.
f. Shipping usually takes around 6-8 working days.
g. Item will be shipped as seen... in parts. You'll need to assemble to complete.
h. Sorry... not looking for trades.
i.
I will not entertain requests to 'part-out' so please don't ask.
j. By all means, send me a PM.
Thanks for looking.