Please read my rules. Also, don't be an idiot.

RULES
I don't ship first. No matter what. I know my feedback here isn't too impressive, but ask anyone who's dealt with me and you'll know that I'm a legit seller.
I am willing to do 3rd-party, however. You'd pay for fees with that and shipping to the 3rd-party and to you.
I'm 22. I'm a "grown up". I expect you to be mature, as well.
POST FIRST, THEN PM.
We will converse on the phone, either via text or otherwise, prior to mailing anything. I will give you my cell phone number and you will give me yours.
2006 MacDev Cyborg
I bought this when they first came out. It was originally pewter. I sent it to Gruntbull (one of his first jobs) to get something special. I decided I wanted to rep the Militia, but I really liked the camo tattoos on the Arsenal Angels at the time. It is a gloss/dust finish. Really only done justice in person. I liked the end product so much, I never used it.
This gun has only been used once
by a friend of mine. it is in perfect condition. I am now in need of some cash.
Inside:
2007 Red Valve
Kila Detents
Stock internals
PBK Saber Trigger
What will be included:
Stock trigger
PBK Scythe Trigger
Extra Eyes
Extra Microswitch
Extra Schrader Valve
Schrader Valve Removal Tool
Original Valve
Matchstik Barrel
Original Case
CP On/Off
And more...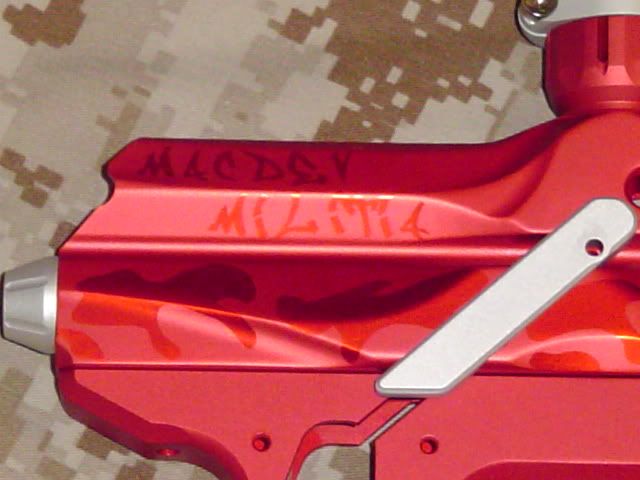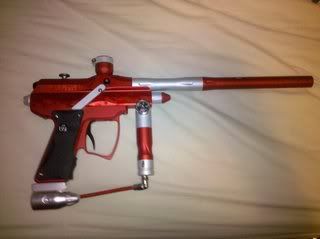 More pictures can be taken by request.
This has been my collector's piece since day one. Now, it's time for someone else to enjoy it.
PRICE:
$450 shipped OBO
Not really looking for any trades unless they include AT LEAST $200 cash.