Gloss black G7 (90 degree frame) with virtue board, shoots great.
Comes with cp on/off asa, clamping feedneck, barrel kit (five backs and a silver/gloss black front(12-13" barrel length), a complete replacement set of grips to replace the worn/missing grips, set of frame grips, killa magnetic detents (not installed), 3x o-ring rebuild kit, solenoid, breech and foregrip seals.
There are a few light scratches on the body (the pictures should show all damage), no other damage. The old lever on the back came off so it has an A1 style knob now.
$300 shipped (to the lower 48) obo
$250 shipped without the extras
$265 shipped without extras and freak back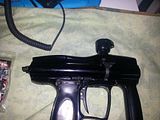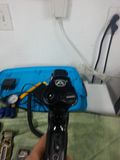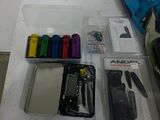 Trades (+ cash as needed):
t9.1
spool valve marker (I want to try a nice one, dm7, clone dx, etc)
nice pump (half/midblock would be nice)
spire
offer