Ok folks, I have up for sale my 1st Generation Bob Long Defiant. This is another re-build project I took on, but a serious lack of funds has forced my hand, to put it up for sale. I must stress, that this is a work in progress project, and may require some more work from the potential buyer to finish it.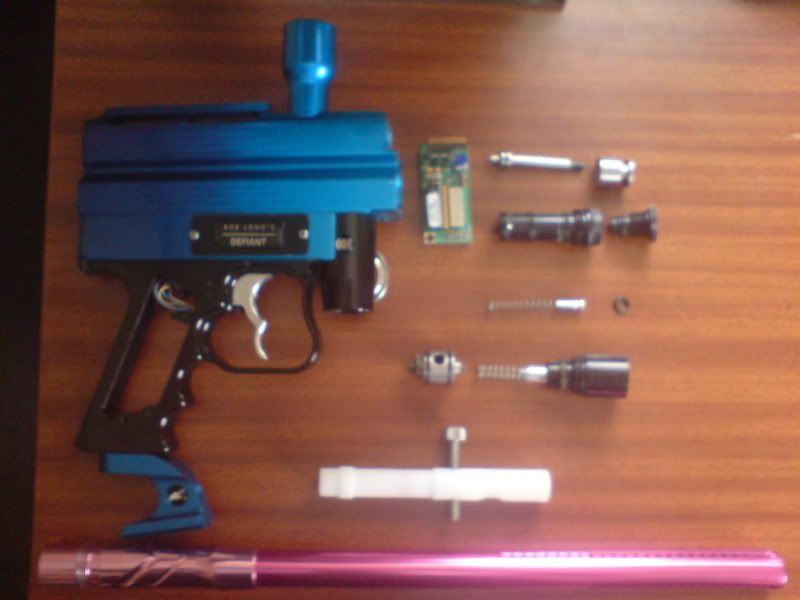 The project comes with the following:
1. 1st Generation Bob Long Defiant.
The condition of the main body, tray and frame is pristine. Very little surface damage (if any) with the original dark to light fade gloss blue anodized finish. It still looks as fresh as the day it was first done. This is the later model of Defiant body, with a series of smaller grooves milled into the sides instead of the original tear-drop cuts. It also has the later feature of the removable battery access hatch, which makes changing a battery so much easier.
2. Original bolt.
Very little surface scoring/scratches.
3. Original detent.
4. Original LPR assembly.
I intended to purchase an AKA SCM II LPR for this project, but never got around to it.
5. Stock valve.
6. AKA Tornado valve.
7. Original valve spring.
8. Original stock board.
I was going to buy the Vaporworks Chaos chip for this, but again, I never got around to it.
9. Original wiring harness.
10. Original solenoid and manifold.
11. Original grip frame and trigger.
Sorry, but no grip panels.
12. MacDev sonic ASA vertical regulator adapter.
This will allow you to install any aftermarket inline regulator you desire to use.
13. KAPP drop forward.
14. Lucky Un1TEC A/C threaded back.
Yes I know it's pink, but it was cheap (through BST on another forum) and I intended to get it re-anodized along with the project at a later date anyway.
15. 16" .693 Lucky Un1TEC front.
Same again, I know it's pink. Just be a man and deal with it.
16. Original RAM.
I started to modify this ram, by opening the vent ports on the ram body. The next step was to polish the inside of the ram, as well as the ram shaft. Then I would have de-volumized the ram, using techniques listed in ICDO forum. However, I was still going to keep an eye out for a GBR ram, and have an extended bolt pin made. All this is irrelevant now, so my loss is someone else's gain.
My asking price is
SOLD... pending payment, from 'rabbit' over at IOG.
, which includes standard first class RoyalMail international shipping (from the UK), and all PayPal fee's.
Rules:
1. If you don't like the price, then fair enough, don't buy it. But please don't clutter my thread with pointless and derogatory comments.
2. The asking price includes international shipping
without
insurance/tracking. I live in the UK, so shipping will be via RoyalMail International 1st Class, which usually takes around 6-8 working days for it to arrive at your door.
3. I'm not responsible for this item once it leaves my hands at the post office. You can request insurance and/or tracking, but it will cost you extra.
4. I am not responsible for any custom chargers/taxes this item may incur once it lands on US soil.
5. Payment is via
PayPal only
.
6. Item will be shipped once the funds are in my account.
7. I will only ship to the verified address as listed on your PayPal account.
8. Free up's will be greatly received and appreciated.
9. This marker re-build project is purchased as is.
10. I am in no way considering parting this project out, so please don't ask. However, you are more than welcome to purchase the project, keep what you require and then sell on what you don't want/need
...
Many thanks for taking the time to read this thread. Happy shopping...