I told myself I wouldn't but a few things have pushed me in this direction. I spent the past 2 years almost working towards this, and unfortunately it's gotta go. I know I won't get nearly what I've put into it, but I'm asking 450 obo. Just offer up, no lowballs. Worst I'll say is no. Pictures first.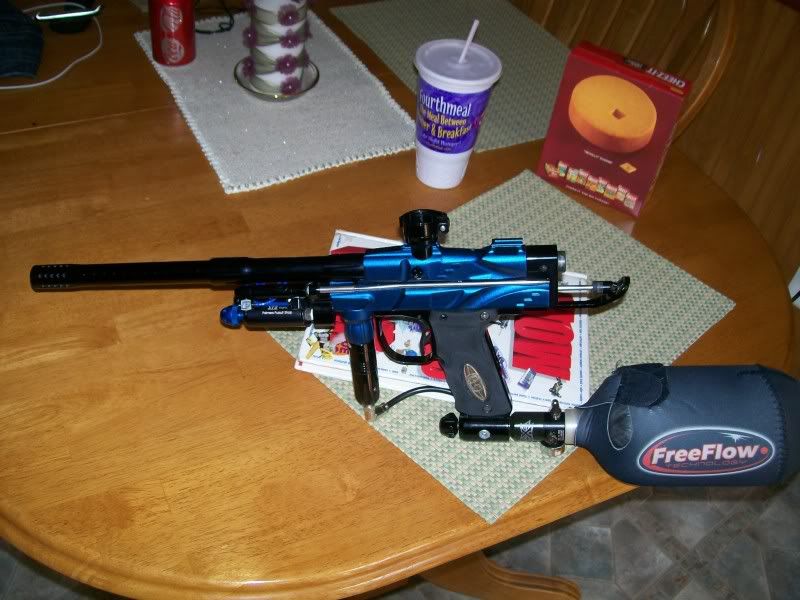 Other side when block was un-anno'd
Note, does not come with barrel pictured.
Ok, for the details:
Blue Dust Freeflow Rhythm body with freeflow internals
Matching FF cocking rod and beavertail(good luck finding these)
Custom Back block from Tony Elia of Elia Paintball. The regular blocks had a thin wall that always stripped or cracked at the pump arm, had him machine one with more rigidity. Worth the 130? Probably not, but I wasn't messing around.
Gloss CP Reg
Gloss Eclipse ram w/ QEV's
Micro Rock w/ FF knob
E2 v1.1 along with FBM Delrin Wave Trigger
FF Nylatron Bolt, super light, best bolt I've ever used
Press Fit FBM ultra low feedneck
Check it products on/off
I also have 3 spare eblade eyes that I have for 30 a piece for those interested. I will consider parting this out for the right price.