Pending. Wow. That was faster than I thought.
First off, I gotta say I love this gun. I also love pumps, and wanna see what else is out there! She treated me well at the field and got a lot of attention. One of the comments was something along the lines of "So you actually have to recock that after earch shot? That sucks!" I just laughed.
Anyway, I digress. It's a stock RM with a pump kit. It does have autotrigger, which is handy in tight spots.
Here's some pics: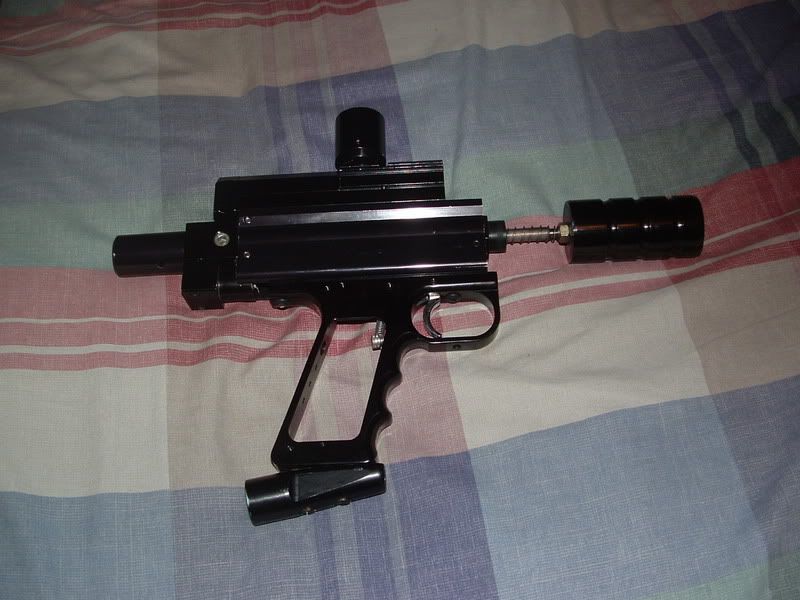 Note: Note, gun comes to you just like it came to me! That would mean sans grips and barrel. I can throw in a barrel, but I don't have a set of grips, sorry.
It's in great condition, and I'll clean it before shipping. I'm in no rush to sell, so we'll see what pops up.
Price:
It's a 1 of 6 from Rainman. So $275, or just offer up and we'll work from there.
Trades:
Mostly pumps or Mags, but I do like a lot of things. Offer up!
PS: If a super-dee-dooper deal comes along, I may be willing to throw this limited edition Dark Cocker (manufactured by Free Flow) into the trade as well! Has some scratching on the front block where some dolt tried to remove it with a vice or something. No eye holes!
Sorry, due to family policy, I cannot ship first. I can offer an information exchange though, such as phone number, e-mail and home address. I also have some feedback where I was paid first.