I wanted one of these for years and a month or so ago this one was on ebay and I bought it. Unfortunately I won't use it because I use my S6 when playing pump and have a pump mag build going as well.
When I got it the 3 way leaked slightly, a very quiet and small leak. I put some oil in the ASA then ran it through the gun and it seemed to work. I'm not sure how long this fix will work, could be temporary or the orings could have been dry and needed oil. I've shot it several times in the yard and it worked fine so far.
I will ship to Canada and anywhere else.
Top picture is most recent, bottom pictures don't show the brass stabilizer mount. I used them because they show the AT side of the body. I can get more pictures if needed.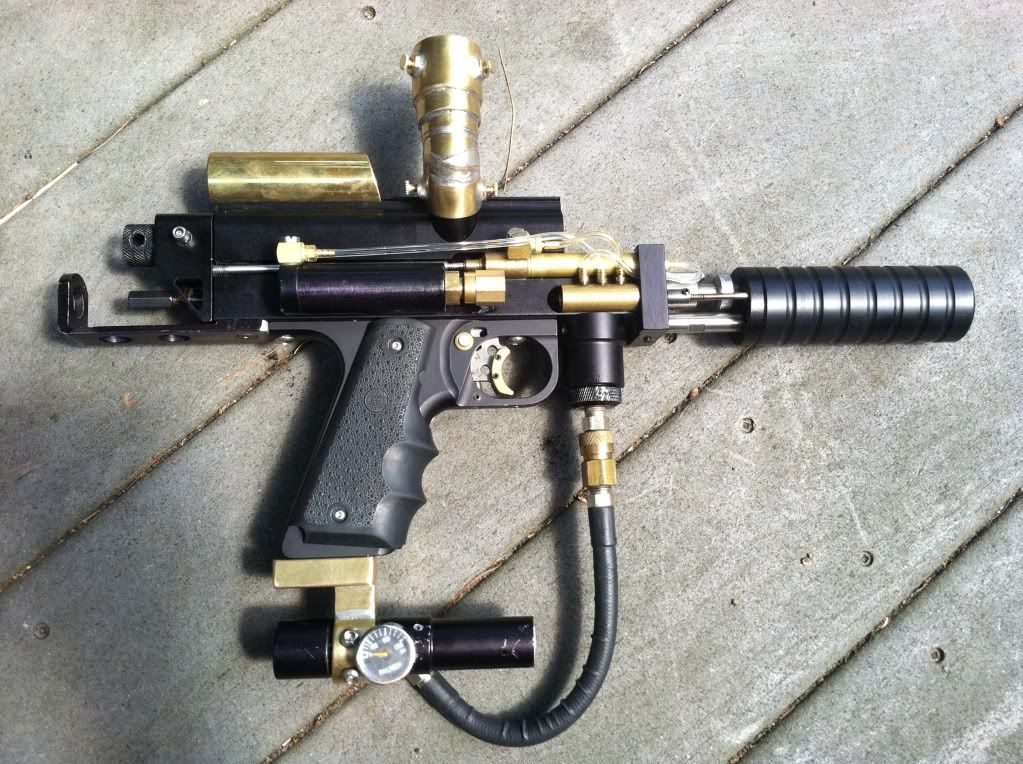 $500 plus shipping
Comes as pictured in the top picture along with the brass Walz feed
Includes;
Walz brass elbow
Walz brass sight hood
Walz brass stick feed
Walz brass Stabilizer mount with female Palmer Stabilizer
Brass trigger shoe
Trades, the price next to the item is the approximate trade value I would give for each item. That way it takes the guess work out for you, subtract the item value from the total and the rest would be cash. I will take all trade or trades plus cash.
X-valve with level 10, $175
RT valve with level 10, 150
Luke's Mini Vert, Logic, M90 Automag trigger frames, depends on frame $125+
Warp left ULE Automag body, $100
Palmer Superstocker, prefer regular frame over 45, $250+ depending on the gun
CCM markers, preferance on full bodies, $ depends on marker
You can make other offers as well, no electros though