Im getting rid of markers that have been collecting dust and other wise unfinished projects and even some finished ones I just dont have a use for...
First things first...
- Im not quiting or leaving or anything like that Im cleaning house and trying to de-whore myself.. I have alot of woods ball guns Ill just never use or need any more. That and gun wise my fleet of Snipers and electros get the most used out of all of my guns.. The rest of it is stuff I bought used once for one game and just never used again.
- This will be updated ALOT
- If its apart and other wise in pieces.. Have fun with it.. Its apart because I dont have time to put it together and thusly the price will reflect it
- I prefer cash/Money order only no paypal sorry
- Some limited Trades will be accepted they will be listed below.
- youve got to pay shipping sorry..
- If its an ECAP Product and its listed here and it gets sold before you get to it... I can make you another one in a two week time period ( Unless its harry like my next two weeks.. )
Trades Im looking for..
- 45/45 cross fire LP tank
- Cross Fire LP out put tank valve
- Sniper 1's and Sniper 3's FACTORY STOCK
- 3 inch wide or bigger black delrin rod stock.. Oh you guys will love what this is for!
- Black duck slide kit for my phantom
- An Etek or 05 or 06 ego in all black thank you
- An SFL Shocktech cocker to turn into a pump
- A half block body of some sort to turn into pump or a beater VF cocker of some sort to cut up into a half block.
- A pair of bushies, BKO, Impulses , Ions or what ever is cheap and elector to turn into a double..
- WGP Commando!
- OG RF Cocker 94 era STOCK
First up.....
The pumps.....
Snake Eyes SC Rifle
- Custom Stock
- Custom Trigger Group
- Well.. Custom EVERYTHING!
- SC feed block has a light pipe sight in it
- Non velocity adjusting internals sorry I dont have any basic ones floating around.. BUT! If you buy phantom internals they should more or less drop in..
- All aluminum parts have been bead blasted to a dull silver finish.. If wanted I can have it all annoed for a small fee.
- $375.00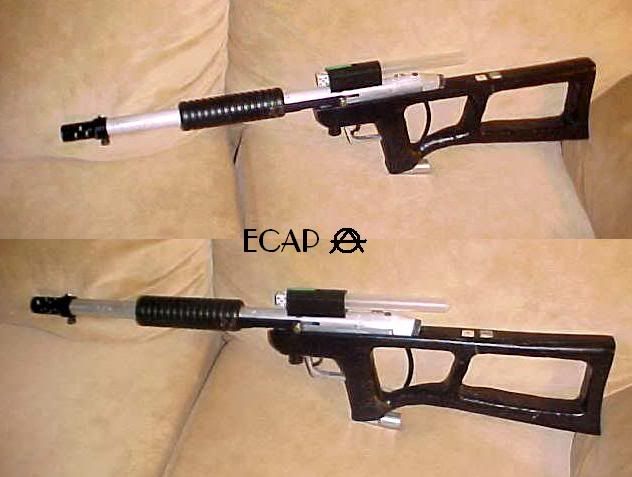 Sl68 one
- USI Bull 1 and 1/8th inch barrel in 15 inches long
- Stubby pump
- NO CRACKS
- RUBBER BAND WAS USED AS A BALL DETENT!
- $70.00 OBO
Nightmare LB sorta Comp
- Was a comp I lost the feed neck but made a delrin slider to cover the feed port and ease of loading
- Back bottle air
- Small leak between dummy 12 gram and valve
- Shoots low like 240's
- $120.00
Team AGS Custom Nelson
- 14 inch unibody
- ANOTHER 14 inch unibody with spiral porting!!
- Lapco Internals FULL SET INCLUDING VALVE TRAIN! Its pump action is buttery smooth.. better than any phantom you have ever shot!
- 1/2 turn drop out 12 gram changer
- Milled pump
- Brown Grips now..
- No sight blade thats on my ego now.. :wacko:
- $200.00
The SEMIS...
Tippmann 68 Carbine
- Stock except for a cut down barrel and long fore grip
- CVX valve
- $80.00
Tippmann Pro-Am
- First run Grey body type
- Needs main spring
- GOOD condition for its age
- $50.00
Tippmann Mini-Lite
- Star Fire bolt
- Power Feed adapter
- Duel tank set up capable one plug included
- Stock barrel
- 14 inch USI barrel ( SP knock off )
- Folding Armson fore grip
- $160.00 ( I really really dont want to sell this gun if I dont have to )
The Projects.....
BOX O' PGP(s)!
- Two bodies one has leaky valve both pre cartridge
- Two frames one has wood grips and some white paint on it.
- A baggy of internals ( pre catridge )
- One bolt for now I have a second some where
- No pumps or pump arms
- $100.00
Pnuematic triggered Bull Pup VM 68
( god thats a mouthfull )
- The pnuematic trigger system works great.. but.... there is always a but... The three way needs orings or a new three way intierly and thusly it leaks a bit.
- The mechanical trigger on the VM is wonky some times it hangs up and you have to recock the gun to drop the sear into the right possition.. I cant figure it out
- Cocker barrel adapter that only fits the XCel barrel that is included.. again.. I dont know it doesnt fit any other cocker barrel for some reason..
- Rock LPR and QEV's on the ram.
- $350.00 Sorry not OBO I put ALOT of mill time on this bad boy
Im going to be adding more items as I get them photo graphed....
If you want to see what isnt old and rare that I have for sale too please look at my thread on SCP
Its just to much work to break them up on differnet forums here
http://invisionfree.com/forums/Stock...0#entry2786703