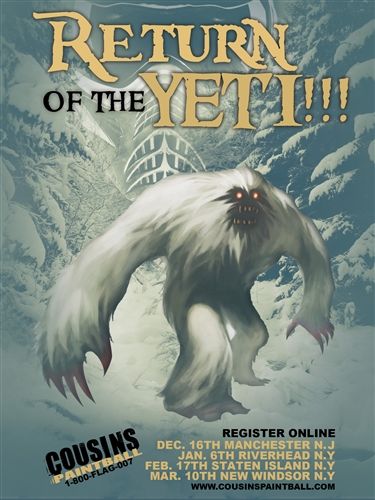 Info:
Sunday December 16 at Cousins Paintball in Manchester New jersey
Cousins Paintball
750 Whiting New Egypt Road
Manchester NJ 08759
Admission:
Prepaid...Admission and air $30.00 by December 14th
Walk-on...Admission and air $40.00 Day of the event.
Registration Opens: 8:30 AM
Game Begins: 10:00 AM
This will be a Bring your own paint scenario game!!!!!!!
Please no monster ball or staining paint :dodgyrun:
If you would like to purchase paint at the field it will be available for $55 a box for premium winter fill ball. the paint shot AMAZING last year and we are expecting the same this time around.
You can sign up here:
https://www.shopcousins.com/product-...manchester.htm
Last year the Yeti games at Coram Long Island attracted over 300 participants with paintballers from all areas flocking to this unique scenario game where field paint is not needed.
Scenario:
As the human race comes to grip with the discovery of our long lost ancestor two greedy corporations are simply seeing dollar signs. They see the mayhem as an opportunity to capitalize on the hysteria and merchandise our new relative. They will stop at NOTHING to retrieve artifacts from Yeti culture! Both of these groups will converge on Manchester and do battle to see how can reap the most profit from these unique discoveries!