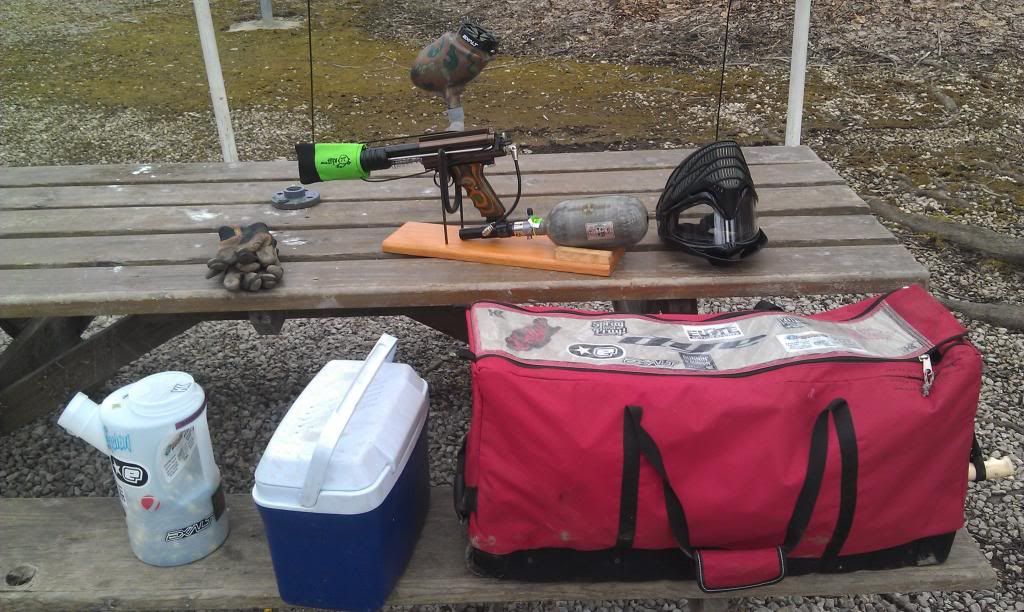 This past Saturday (April 6th) I went out to play for the first time this year/season. Over the winter I had spent some time refining my Sterling, basically I matched a couple of sets of springs and I modded up a VL200 to make it have less of a profile. The day started off great when I went to chrono my gun and I shot 277, 277, 279; I'd say the spring matching paid off.
The first 2 games were cold considering I was just wearing an underarmor layer, a T-Shirt and my JT Jersey but after about 12:00-12:30 the sun came out and made the day much more pleasant. The only problem I was having was brittle paint, I had to clean my hopper out twice and I was having the paint break in the barrel about 2 times a game until it warmed up a little.
Now that I have a freak bored barrel, tuned springs and a correct paint/bore match it just seemed like I could reach out and hit the opponent. It was an awesome day, played for about 5.5 hours had a great time, ran into a couple of people I met out at the field last year and I wasn't the only pump gun out there.
__________________
Started with a Splatmaster, moved onto a Nelspot 007, then came the Autocockers, then a STERLING Pump, next was a Bob Long defiant then a PM7. As of now I have 6 Sterling Pumps, 1 Phantom for SC, a CCM SS-25 and a Sovereign 3.
Feedback:
http://www.mcarterbrown.com/forums/f...-feedback.html