NOTE:
13 March 2013

To clear things up before you read this. Iam now a sponsored by FOG DOC, but I wrote this before I was even sponsored. I've been playing since 1987. I've use just about everythermal lens I can for the brand of mask(s) that I've used over the yrs.
I have used FOG DOC all over the USA and around the world and it has served me well.

As far as using it on my glasses, it veries with climate and type of lens that I use for my glasses. Even my sports glasses have fogged using another well named brand. So I have done comparison test.
You can find all those results here. Just search thru the many reviews:
Equipment, gun reviews and write ups.
All in all you have to be the one to decide if Fog Doc, Spit, snot or whatever else works for you. So I have written about my personal use and what to and what not to use on the lens.
This will be a continuious review. Hopefully I can test this in a number of climates and another country later this yr. 2011.
Fog Doc is not my sponsor nor did I receive this item for free. Any free items that he included in the package will be handed out to players at my local field for evaluation. We have asked
Fog Doc
if they would like to be a part of our sponsorship for next season,that is completely up to the company.
Let's all be honest here,nothing is completely FOG PROOF. However the better the product,the less fog and longer time it will take. So far I have not found anything that will keep my lenses fog free. It's really bad when you pay $24.00 for a pair of thermal lense and they wont do the job. That says alot of how a product really works. If Fog Doc works the way I want it to,and so far it has,I doubt I'll ever spend cash on another pair of double pane thermal lenses again.I'm not here to prove this product wrong nor any other. I'm just here to show what I think is the best to use and how well they all compare to each other.
Fogdoc - Your Prescription to Clarity - Antifog and Steam Removal
I have been wanting to try this for a long time. Every product that I have used that said
Defogger
has failed me. I sweat alot.
As soon as it hit's 70* I begin to sweat and fog up my lenses. So I have been kind of putting off on a purchase of Fog Doc.
Well I'm going to trying and see what happens here in the
wet cold State of Washington.
Also this is made by a member on MCB and It's always good to back up the local business. So
Stupiddogg
,thanks for going thru all the trouble of developing this product and releasing it first on MCB
.
19 Aug 2010
I received everything as ordered,plus I was sent a few more items to hand out at our local event that will be in Sept.
I also call the owner to let him know I received the items and how I would be using the product. I found out that he has been making this stuff longer than anyone knows and longer than most people have been playing.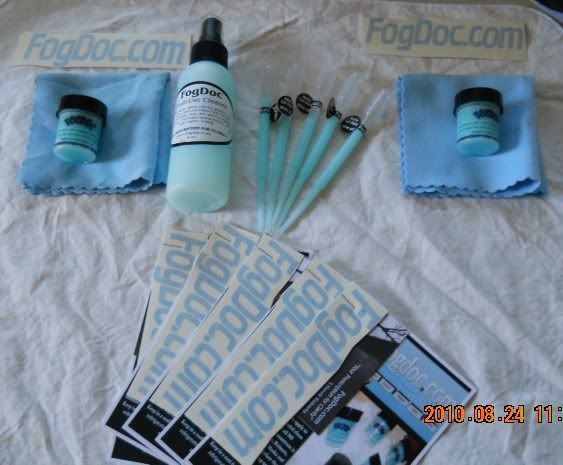 The
Fog Doc
roots started with paintball many yrs ago,and has now expanded into many areas of sports and industry.
I ordered the
DELUXE
package. Why not,it was very well priced. It had a spray bottle with cleaning fluid, jar of fog repellent and a soft wipe cloth.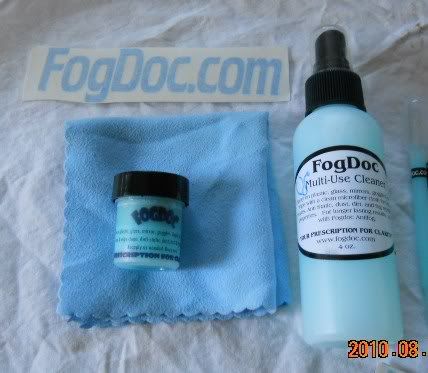 The test:
21 Aug 2010
Our first test took place at Super Game XL in Oregon:
Supergame
It was hot, muggy (West Coast Hot) and in the 80's. As soon as I put on my mask I started sweating and fogging. Now I promised Derrick I would test
Fog Doc
using my fan and helmet,using the helmet only and no fan use. Promise not kept on day 1.
The area for testing was open field with structure both days. I didn't know the area very well,so I just stayed where I was comfortable.

Hopefully we will get a little woods testing in the next few weekends.
I threw on a little
Fog Doc
and rubbed it in till a haze formed on my lense. I let it sit for a little over a min. I then wiped it off with the cloth provided. I rubbed some on the outer lense and let it sit the same amount of time and wipped off.
So day one and off to the field. After numerous gun problems and frustration I was finally able to get on the field. Not much testing time,but was able to do a little. So I didn't like the Skate Helmet I had,it just fit to tight,so all I wore was a Bandana.
I don't know why I always choose to test during a big event,but I do. So now that I was able to get a working gun I was off to play and test.
I used my fan out of habit for the first two hrs of play and then the next two hrs I used straight
Fog Doc
with the fan on the mask covering all the top ventilation it could. Now normally this isn't a good idea. You want to have all the ventilation you can get for a proper air flow. The
Fog Doc
worked flawless. I ran two hrs without a fan and a little fog started creeping up from the bottom of my lenses near the end of the day.
To me this is a success. Especially since I can put another type of no fog on my lenses and I begin to fog up right away. Usually I will start to fog up as soon as I stop and get bunkered down or have to move slow. However this didn't happen with the
Fog Doc
. I had a clear view everywhere I went or hunkered down at.
22 Aug 2010:
Next day of event and testing.
Well I got smart and decided to check around the vendor tents and found a nice helmet that fit perfect with my DYE I3 and Fan. I had to keep my promise.
Now I was set. A little
Fog Doc
and I'm good to go. The helmet fit right over my fan and top mask ventilation. So now Iam completely with out top ventilation. So worse case I'm going to fog up right away. After the first two hours of play,running,stopping and slow walks back to the resurrection point, there wasn't any sign of fog appearing on my lense. I decided to come back out and reload. Went back with the fan on. Same results.
I did have problems both days and it something that both
Fog Doc
nor my fan could fix. That was sweat. I can say that the
Fog Doc
helped to bead away the sweat that made it on my lense. I do sweat alot and the foam just retains it. I actually have to ring out the foam when I come off the field. And the DYE I3 foam is thick. So I never get all the sweat out.
So over all with minor ventilation,I had no fogging issues. Now I have to wait for the rain and cold to arrive so I can do some more testing. I'll still evaluate the Fog Doc till then.
Derrick wants to get all the info he can from around the US and world to see what's happening to players on the fields. When you give info,make sure when you send feed back,make it mature. There also is a reason instructions are included and a soft cloth. Wiping away the the solution or repellent with a bath towel or dish towel will ruin any lense we use in our sport.
Bath towels and dish towels are very
ABRASIVE
and are like
SAND PAPER
on your
LENSE.
Use the micro fiber towel provided or just order more micro fiber towels from
Fog Doc
.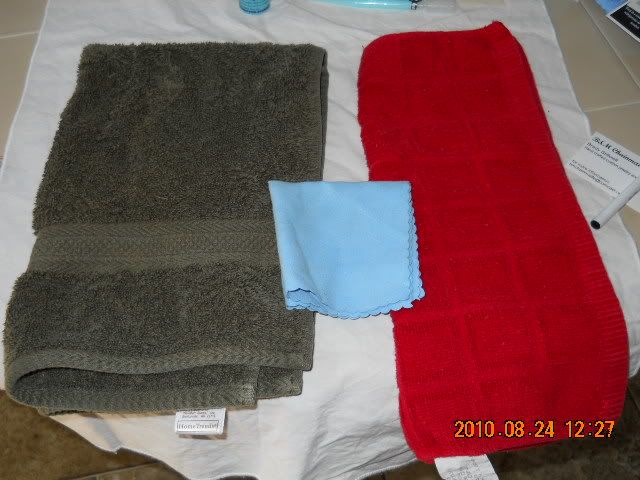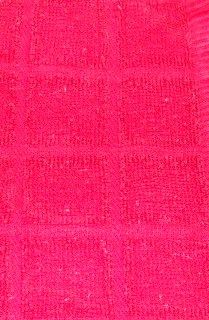 I feel two hr increments are best for testing at this time. As time goes on and weather gets worse I will add more time to the testing periods with and without fan. I'll also write some more about the spray on cleaning solution. For now I can say it does clean up a goggle shot very good nad leaves the lense sparkling if used correctly.
So for now we'll stop. I'm actually waiting for the rain and cold in a wooded/shaded enviroment.
6 Sept 2010

Tub and TV test
Ok this is what's call the Bath tub TV test. My Wife enjoys watching here DVD player while soaking in her large sunk in bath tub. This morning I cleaned her glasses with Fog Doc. After a long day of driving me to the paintball field and shopping,she decided to take a HOT bath and soak for a while, and watching her DVD player.
Now to get the idea of hot water,the mirror with the hot water steam. I don't think she uses cold water at all. We have a big bathroom too.
When she was done,she asked me to post this up and let everyone know that her glasses did not fog up.
So we now know if you watch TV and soak in your tub,Fog Doc will come in handy.
11 Sept 2010

Virginia testing:
So Team Blackrain is now on the East coast. Temp today was in the 80's and a little humid. So last night I decide to clean the mask and switch out to clear lenses. So I rub on some Fog Doc and add the sponsor sticker: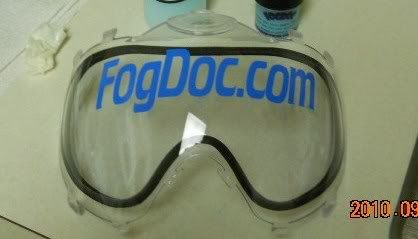 At first it looked like sticker would block my vision. After wearing them,I realized that the sticker is above my line of sight. Perfect!
So I go out for about 3-1/2 hrs of play. I'm still very Jet lagged and got off to a late start today.
Well I decided to test without adding another coat of Fog Doc. What I had on was about 12 hrs old. So that a good start point for testing. Let's test how long this stuff really protects.
Well I went thru the whole day without fogging. I still have my fan blocking and upper ventilation on my mask and still wore my helmet,which blocks any and all upper ventilation.
So I hit the field sweating like a
PIG
. By this time I'm fogged up and walking off the field to clean my lense. Well not this time. Although Iam blind with out my glasses,I still had clear vision throughout the game. I take one to the googles and head back to clean up. Get out a baby wipe and clean my lense of all the shell and heavy paint. Then I use a little Fog Doc spray and make my lense sparkle.
NOTE:
Baby Wipes are your friend.
So back out for another 3 games. Still no fogging. Now I'm feeling a little breeze, which is perfect for me,cause it won't even go under my helmet to keep me cool. So still sweating like a
PIG
with no fogging.
We take a lunch break. Now it's time for the real test. Wearing my Glasses under my mask. Now I know many have had great success using glasses under their mask,but not me. I clean the lenses with Fog Doc Spray and then apply Fog Doc. Epic fail for me. I can't blame Fog Doc,because I've been using it on my glasses all week,walking from Air Condition into high humid heat without fogging. I'm thinking the problem lies with the mask. Even when I turned my fan on full max with the helmet off I still get the same results even when I wore a bandana,fogged glasses. I use a DYE I3 with double pain lenses.
Eventually I'll buy a different mask for testing. My recent one is a few yrs old and needing new foam. That can also be an issue is the foam. Or the air pocket that I have between my lenses and glasses.
So off with the glasses and back out for a few more games. Same results as before,no fogging at all. Not even a creep up. I can say I'm having good results in muggy heat. Hopefully I'll have a better OTG (over the Glasses) report in the very near future.
UPDATE 20 Sept 2010:

Field report from I LUV STRATS. Paul is the local gun tech at Northwest paintball in Silverdale ,Wa. Paul also maintains the rental gear from guns to goggles. I left him a jar of Fog Doc prior to leaving on my trip. Here's his response:

"Had the pleasure to use fogdoc for two big games today and it has far surpassed any other anti fog solution I've ever used. Today was very rainy and muggy and had 0 fog on my glasses. With all the running around I did I had no problems. Jim and Kim have been very impressed by it as well. I"ve put fogdoc on quite a few random rental goggles to see if anyone would come looking for anti fog solution and those rental players never came up. I"ve also put fogdoc on regular walk on players goggles and glasses with great results. This is by far the best stuff on the market hands down."
Thanks for the info and please keep me updated. Also what type of mask does the field use?
Later
Blackrain