This is not a "How To". If you look at any type of these bags, it is self explanitory on how to build. This is based on my idea of how I feel these should be made.
I used 550 para cord, because it's what I have laying around. You can buy much thicker cord at hard ware stores. It gives the bag a more tactical look for me. After all isn't that the look I'm going for
I never really liked these bags, but I figured I'd try one out. So I had Mom make me one on the fly that was the right size for me. It was just a regular non cordura fabric in ACU.
While in Japan the last few months, I found out it was effective for carrying groceries and clothes that I needed tailored.
As mentioned, the first bag was made on the fly and made in a hurry. Probably took about 10 mins. So back to the drawing board and redesign at some point when I had nothing better to do.
Then one night I was looking on line and ran across an advertisement for a draw string bag in Multi Cam. Price was $20 + S/H. Way to much. It was also to small.
How ever the company posted the measurements. Big mistake. The measurements were still to small for me, but gave me a start point.
So I began to draw up my own design to use on a daily basis. If you are going to do it, do it right and make what you like. I hit youtube for a few sewing tips and ideas. Looked at other Draw String Bag designs on line.
So off to Ebay for fabric. I bought some 1000D ACU/UCP Delta Camo. I had all the webbing and 550 cord on hand.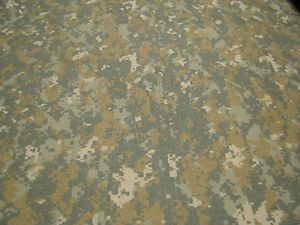 We cut out fabric to 44" long X 16" wide.
I used 550 para cord
1" webbing
4" wide velcro loop
Mom and I made two bags. one for my Wife and of course mine.
The Wife's bag:
Her's was just a simple "plain Jane" bag. Took about 20 mins from start to finish.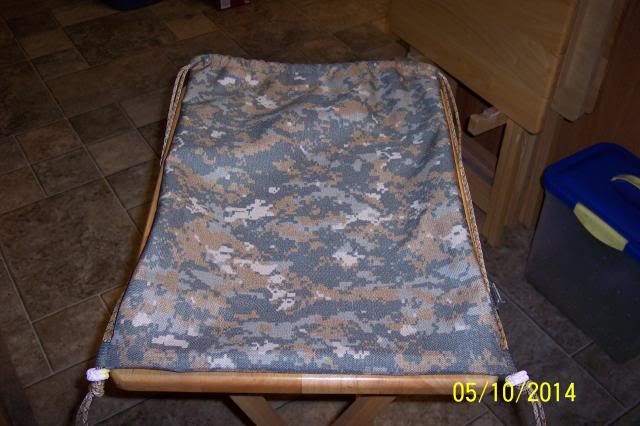 We used donut stops to prevent the knot from going thru the tab loop. Not that it would, just adds a little self personality.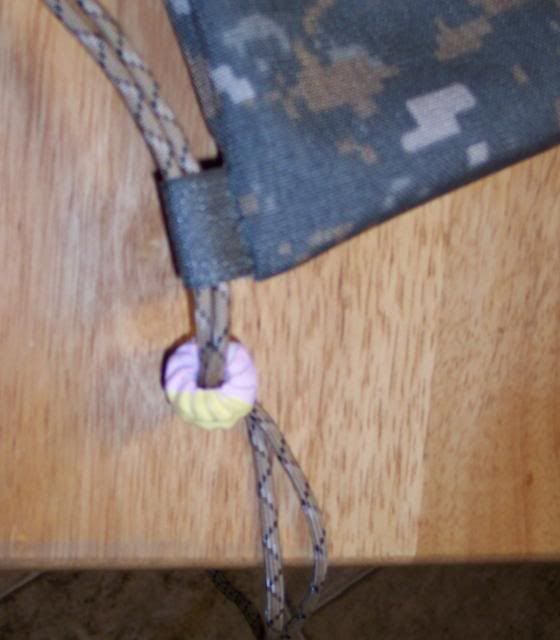 We also added a buckle up front. As items are added to the bag, this will help keep the bag tight to the body and prevent slipping of the 550 cord.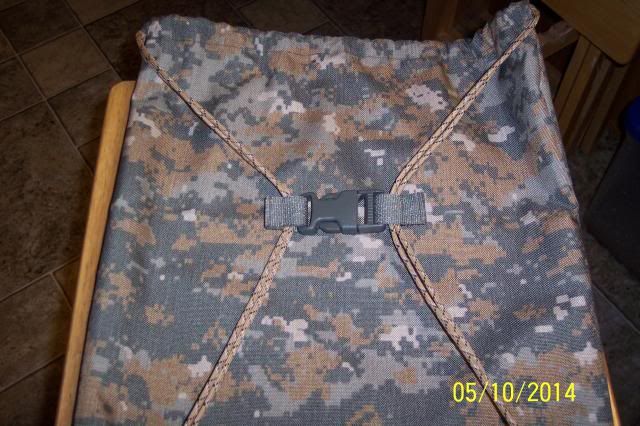 Blackrain's Bag:
So we all know I'm different and I have never seen one made like this.
Before we get started,
"Yes I know I used black thread on the MOLLE straps".
We ran out of the thread we needed.
I was hard enough just trying to convince Mom to use black. Then I explained it's part of Camo color. It will fade as it gets washed over time.
Plus I used a black marker to mark the 1" lines. I dont have Tailors chalk.
Back of bag:
Standar size with MOLLE straps and velcro loop. I put on some patches to add some effect. All patches are interchangable. Velcro is great. You can swap out a patch, add a name tape, team logo. The velcro wonder is endless lol.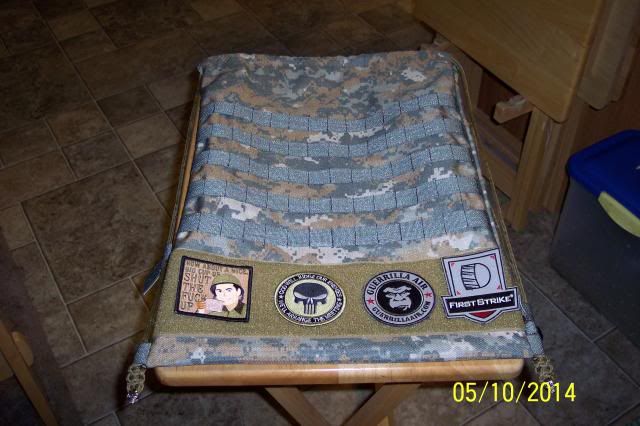 Close up of patches attached: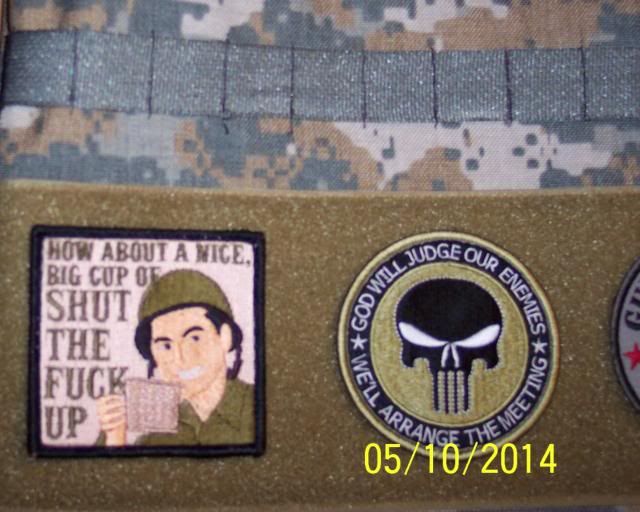 Front strap and blood type:
Since I'm getting older and things happen to old people, atleast when this is being unstrapped from me, they will know my blood type.
MOOLE straps:
Standard 1" space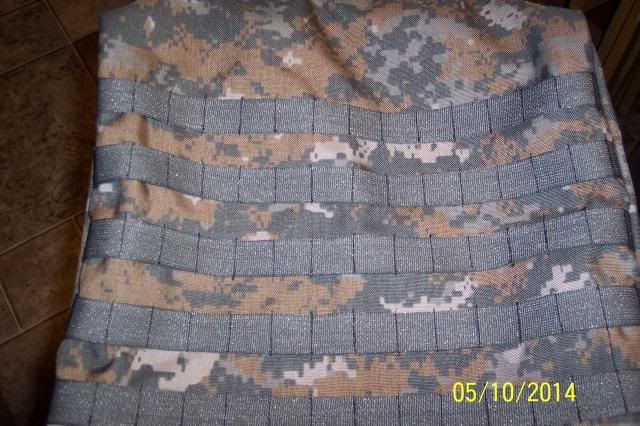 Optional GPS attachment:
A little compas in case I get lost
Just free floats on the string.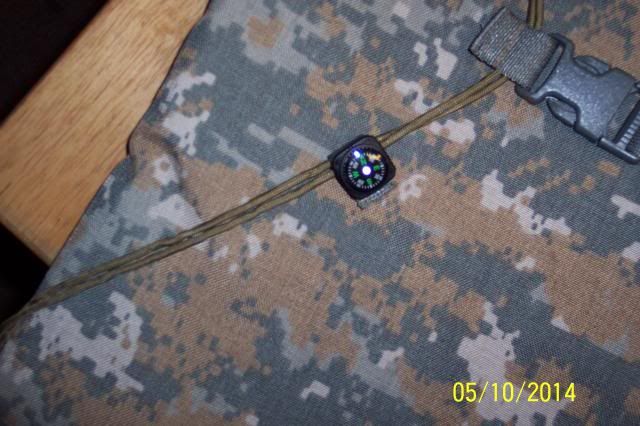 Tab loop knot Stops:
I went a little fancy here. I put in skull beads and then did a cobra weave. Trust me, nothing is passing thru thes tab loops.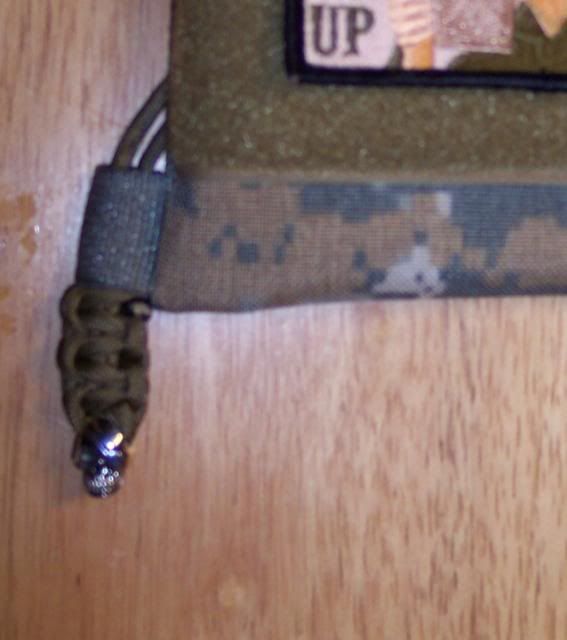 What it looks like closed:
I plled in the draw strings. It doesn't seem to affect the appearance much. I imagine once it is filled with items, such as T'shirts, the full affect will come out.
Over all I would be confident to attach small MOOLE gear for everyday moving around town, such as an IPOD in pouch, or small camera in pouch.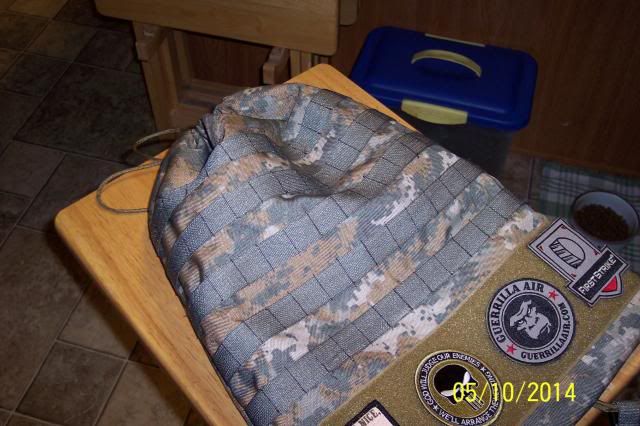 Hope you enjoyed this. I have measurements if anyone would like them. I hope all the photos are clear and with their correct heading. For some reason I still can't edit on MCB.
Later,
Blackrain