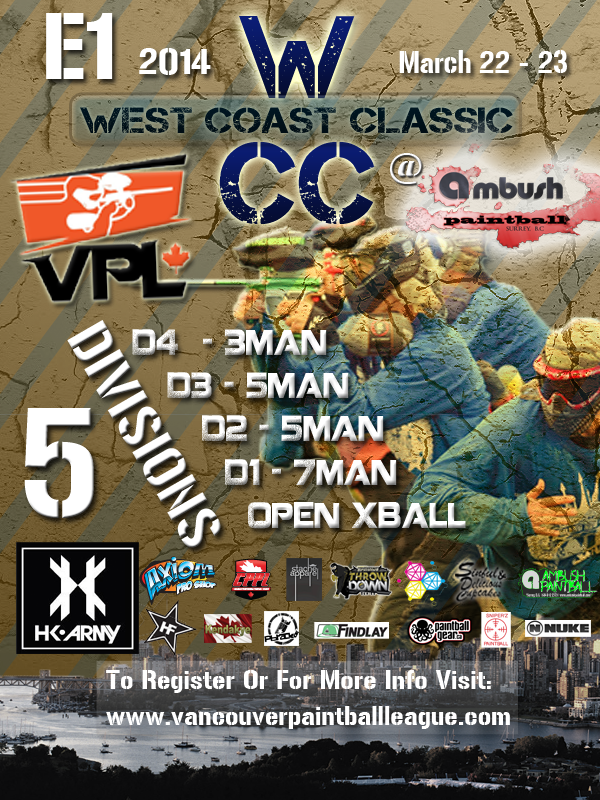 Itís the opening event for the 2014 VPL season!
2014 is going to be another amazing year for the BC paintball and the VPL. This year we at the VPL decided to switch it up a give you players exactly what you wanted for each event. At every event we will have both 5/7 man and xball formats, xball(race to) on saturday and then 5/7 man on sunday. We will also still be running D4 3man on saturday as well.
When we first created the VPL series our main goal was to keep BC paintball alive and to create a fun and growing environment for new players, with that being said we are adapting to the surrounding changes in national events while also sticking to the roots of BC paintball and still having a competitive series. Keeping costs low is one of our bigger concerns so we decided to try and help out the growing teams around the area/ traveling and implemented weekend events with separate formats and divisions for each day of play. We are starting the season off with the first event held at the birthplace of the VPL, Ambush Paintball in beautiful Surrey BC.
Vpl Would like to welcome HK army as our main league sponsor! In addition, the VPL will continue to have our other amazing sponsors and vendors such as Axiom Pro Shop, Stache Apparel, Paintball Gear, APX, HF Apparel, Kendakye, Findlay Hats & Apparel, The CPPL, Ambush Paintball, Nuke Optics, Cynsys Design Lab, Pbrack, and Sinfful And Delicious Cupcakes!
We are stoked for the start of the 2014 season and are looking forward to watch the continuing growth of talent from all around the Cascadia area. Show BC what you are made of this season!
Read more at
VPL E1 2014: West Coast Classic : March 22/23 | Vancouver Paintball League