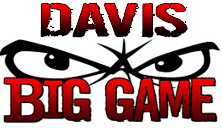 Big Game Saturday March 1st, 2014
and the 1st Saturday of every month
$5 off entry, (making entry $10)


free lunch
.
Playing a big game style event incorporating all the areas of the our 40 acre field in different styles of games. Our last event
in January we had over 200 players!
If the weather stays nice we are expecting 200+ players. Much fun will be had by all.
We will also be giving away a Empire Axe for our ticket giveaway at the end of the day:
Please note:
Airball will no longer be open on Big Game Days

if you have any questions you can call us at 530-757-7700 or email at
info@davispaintball.com
We have also redesigned the fields so we can play more styles of games then we have been lately, come check it out!
For more info on the field please visit
Davis Paintball - Welcome to Davis Paintball
call 530-757-7700
or email
info@davispaintball.com
thanks!
Micah