PMI-III
(circa 1992).
The name means "Pursuit Marketing Inc., version 3". Before '92, all Sheridan products were distributed by PMI. For the most part, the PMI-III is identical to the later VM-68 except for some small differences. The PMI 3 was a very successful blow back hopper feed semi-auto in its. Seen here with period accessories, a wooden Smart Parts grip, remote, L stock and a Kennimex Scorpion barrel.
Early model Kingman Spyder
(circa 1995).
Made by Kingman International, the Spyder was one of the first low cost semi auto paintball markers on the market. It followed on from their successful Hammer line of pumps and proved to be popular and robust. Whilst many would argue that the Spyder was a clone of the Illustrator to some extent. It was also frequently copied by other manufacturers.
Spyder Shutter
(circa 2000)
The Shutter was Kingman's fully loaded model mechanical gun and came with extra bling. Kingman was a master of marketing and created a host of new models over the years that were in essence pretty much the same marker.
Spyder with E-Grip
(circa 200?)
This Spyder is similar in appearance to the "Shutter" or an early "Xtra" but with a multi mode electronic trigger.
Spyder MR1
(circa 2007)
The MR1 was an early attempt at a MilSim marker by Kingman. Unfortunately we didn't get the neat stock that came with this marker in Australia.
Spyder MR2
(circa 200?)
Another MilSim marker from Kingman. These came fitted with an electronic trigger and multi fire modes where legal. Unfortunately we didn't get the neat stock that came with this marker in Australia either.
Spyder TL-R.
One of the many variations of the Kingman Spyder produced.
WGP "Boss" Spyder Copy or Clone
fitted with a 32 Degrees expansion chamber.
National Paintball Rebel.
Another Spyder Copy. This one is manufactured by National Paintball Supply.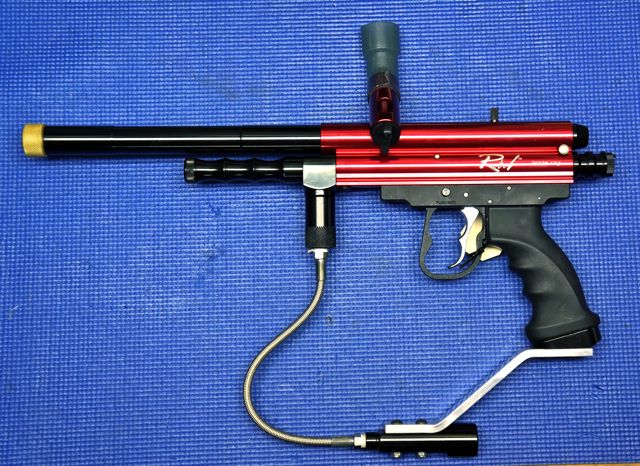 Montneel Z series clone.
- I'm told that this is a Boxer Chinese copy.
The Montneel Z1 was considered by many to be the best blow back semi auto of the early nineties. Unfortunately in 1994 the partners split after a dispute. Both retained the rights to the design with one retaining the Montneel name. Montneel went on to produce the Mega Z whilst the other partner went on the produce or license a number of questionable Z1 copies.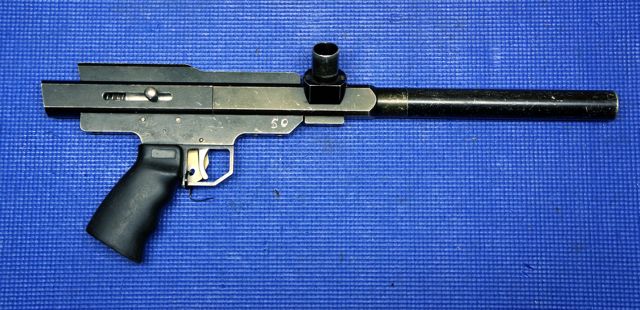 CMI Auto Hog
(circa 1993)
The Hog was similar internally to the Montneel Z1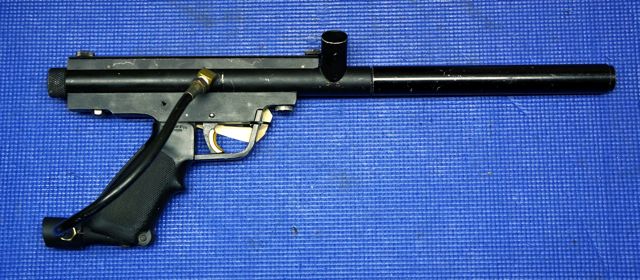 Palmer Typhoon
(circa 1993)
The Typhoon designed by Glenn Palmer is an all brass hand built marker that has a reputation for accuracy. It is also available in a stocked version called the Hurricane. Glenn Palmer is credited as the creator of the first gravity-fed semi-auto system and the auto cocking system. Glenn went on the refine the auto cocking system in his next design the Blazer.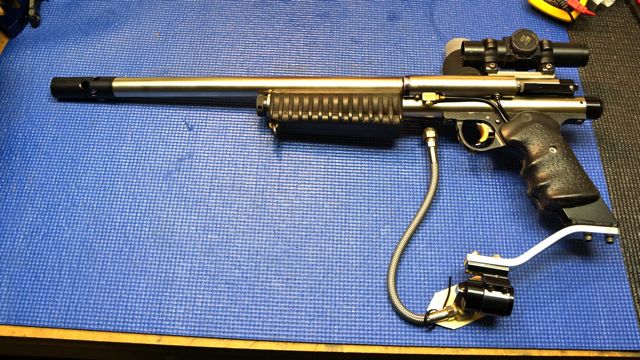 Early model Autococker
(pre '97 model).
The Auto Cocker was the brainchild of Bud Orr of Worr Game Products and from the mid to late nineties was considered one of the finest tournament markers available.
MacDev Sonic Cocker
(circa 2003).
During the height of Cocker popularity they were copied or built under licence by many manufacturers.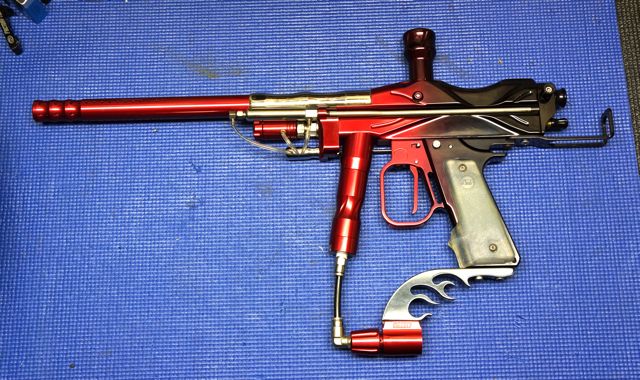 WGP swing frame Cocker
(circa 2003)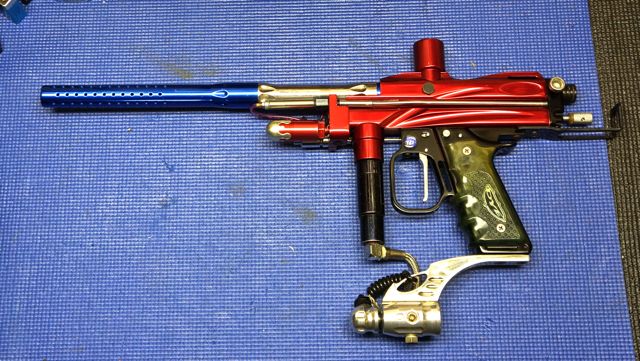 Trilogy Cocker
(circa 2005).
The Trilogy was an attempt by K2 the new owners of WGP to produce a cheaper cocker that would appeal to new players. The design eliminated the front block by integrating it and the 4 way valve into the main body. This one was a rental at some point and it took a lot of work cleaning out years of old paint and rust.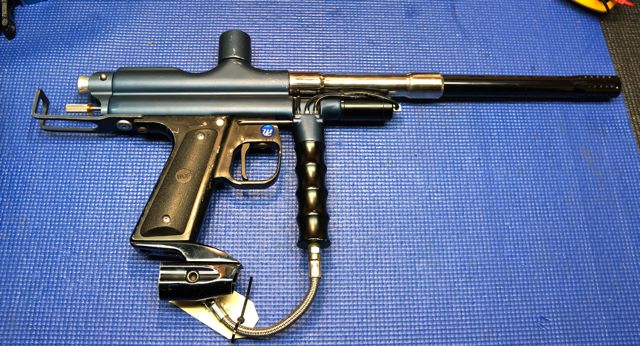 Cocker pump conversion with slide trigger with Macdev regulator and ASA
(circa 2003)
More recently with the rise of interest in pump play there has been an interest in converting Autocockers into pump guns.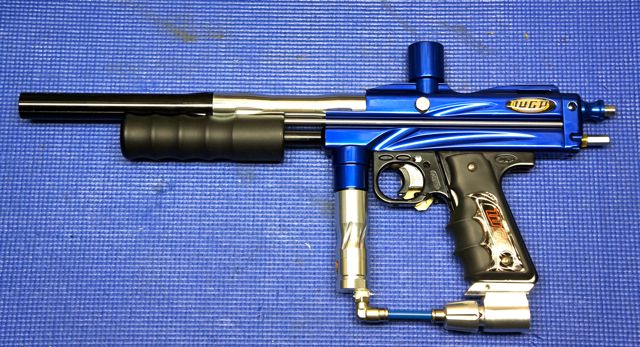 Cocker pump conversion with slide trigger, Stiffi Barrel, Macdev regulator and CP ASA
(circa 2003)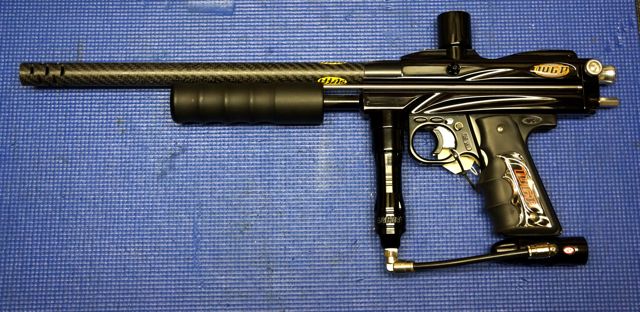 WGP Karnivor
, still the nicest Cocker to shoot (circa 2005)
Considered by many to be the ultimate Auto Cocker, the Karnivor had a reputation for accuracy. But even with its electro frame, it was quickly outclassed by more modern faster firing electropneumatic designs.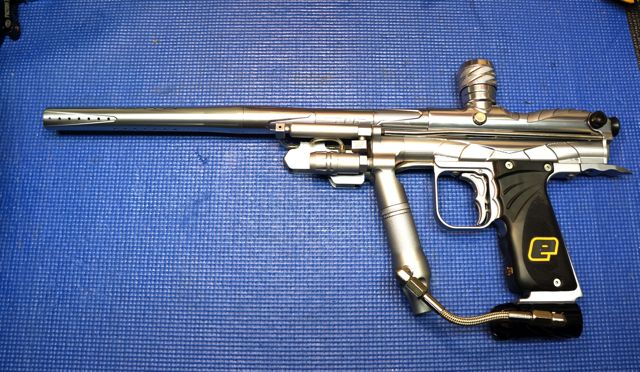 Eclipse Angel LED
in splash ano with matching barrel (circa 1998).
The Angel is one of the first electropneumatic paintball markers. It was manufactured by WDP starting in 1997 and was introduced alongside Smart Parts' original Shocker. The Angel was initially distributed in the United States by Brass Eagle as the 1455 Angel Semi-auto and advertised with a rate of fire of 15 balls per second. The Angel paintball marker was designed by engineer John Rice, as an HPA-only marker.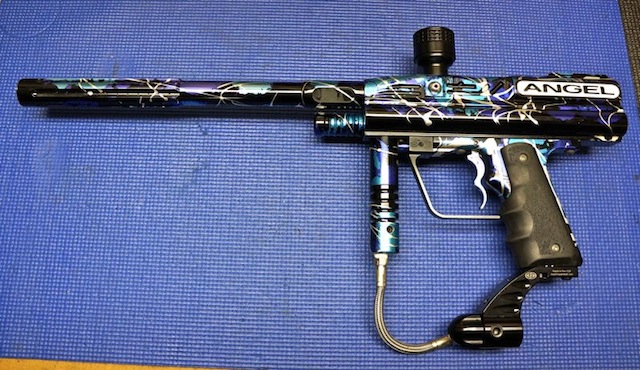 Angel G7
in Joy Division colours (circa 2007)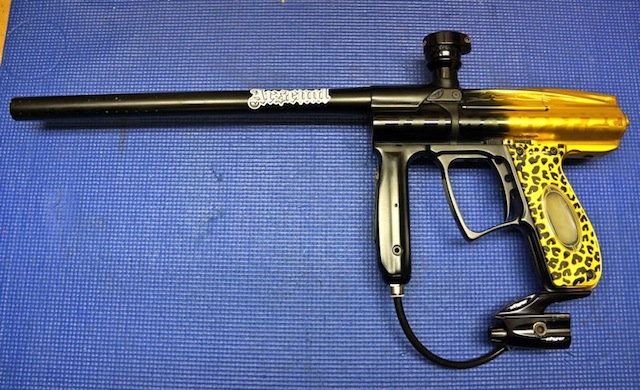 ICD Bushmaster 2000
in splash anodizing with Dye Boomstick (circa 2000).
Many consider the Bushmaster to be the best of the early electros. It works in a similar way to the Angel but without the complexity and is simple to maintain. It was designed and produced by Indian Creek Designs (ICD).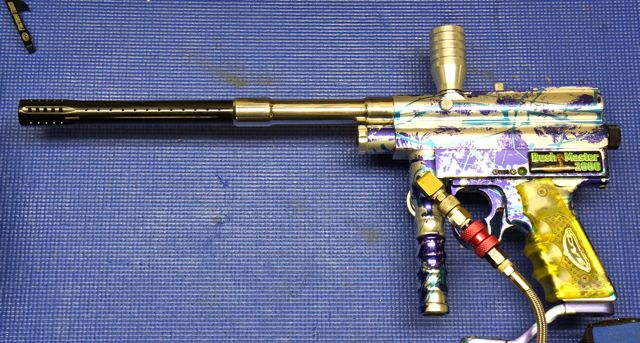 ICD Bushmaster 2000 Series 2
(circa 2002?)
The Series 2 Bushmaster 2000 improved on the original design with eyes and milling to reduce weight.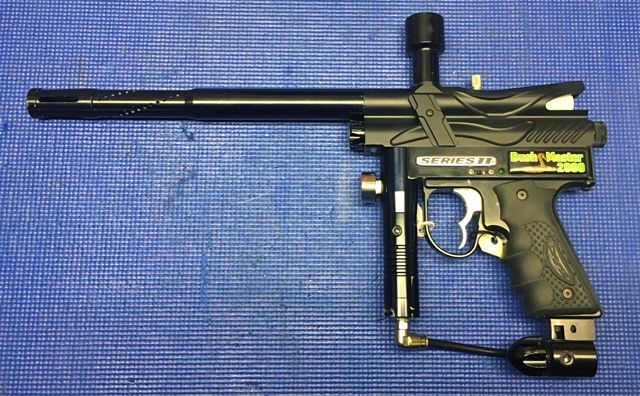 ICD ProMaster
(circa 2005).
This was ICD's next design after the Bushmaster and is a more compact marker.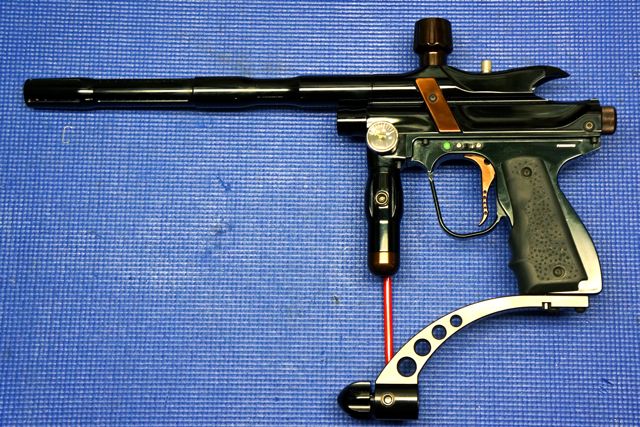 Eclipse Shoe box Shocker
(circa 1998).
The first generation Shocker was the first mass-produced electropneumatic paintball marker on the market, effectively making it the "grandfather" of most markers used in tournament paintball today. Due to its large boxlike shape and significant weight, it was often referred to by the nicknames "shoebox" and "brick". The first generation Shocker was manufactured by a company called PneuVentures and sold through Smart Parts. This marker was discontinued in 1997, when Smart Parts redesigned it and began producing the marker in-house until 2002.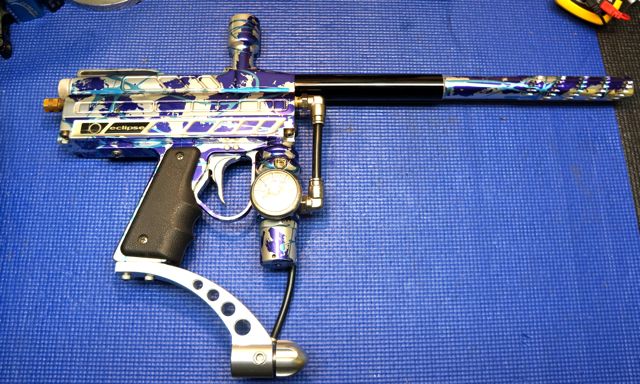 Early MacDev Cyborg
(circa 2003).
The Cyborg was Australian firm Mac Developments first in house designed electropneumatic marker.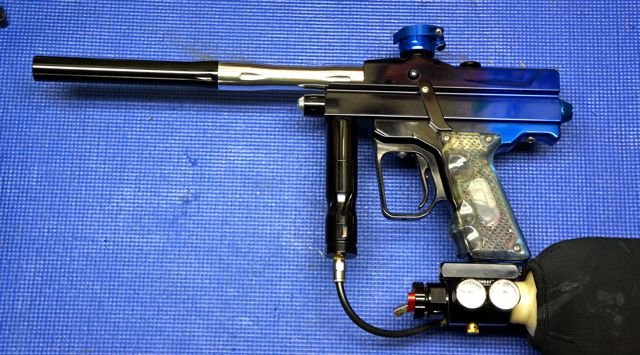 MacDev Droid
(circa 2007).
These are spool valve markers. This one is fitted with an upgraded bolt, trigger and Tadao board. The LCD has faded away over time which is typical for these boards.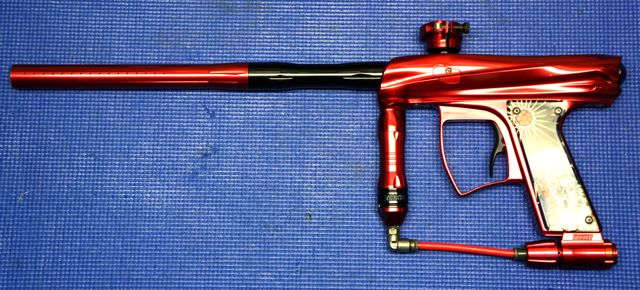 MacDev Droid
(circa 2007).
This one is stock and in very good condition and features a nice camo anodizing pattern.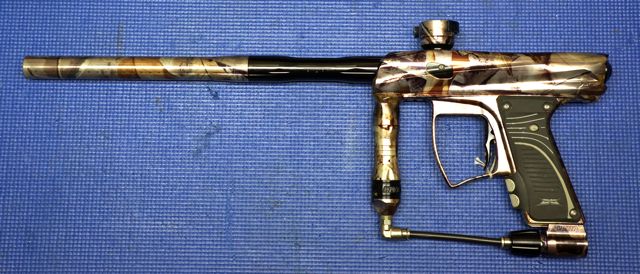 MacDev Cyborg RX
(circa 2008).
An interesting Poppet valve marker. This one is in very good condition and features nice purple and silver anodizing. The screen has faded which is typical for these markers.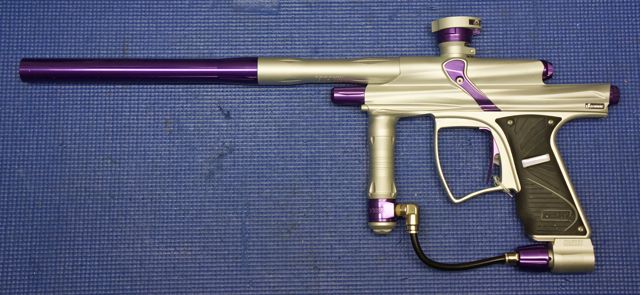 MacDev Clone Gti
(circa 2013).
A spool valve marker from Mac Developments. This tournament level marker features tool less disassembly and a range of software options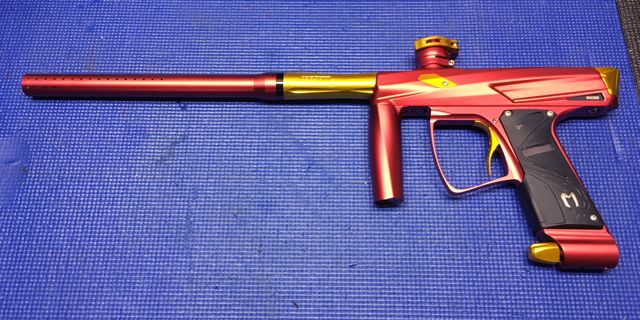 Bob Long Defiant
(circa 2002?).
The Defiant was in essence a Bushmaster 2000 marketed under the Bob Long banner. The major differences being the trigger guard and the use of Auto Cocker threaded barrels.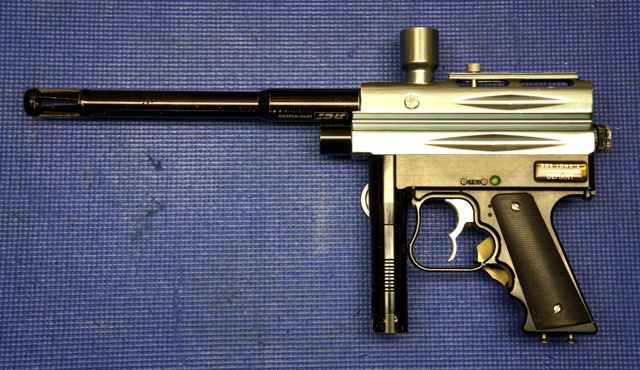 Bob Long "A-Bomb" Intimidator
(circa 2005?).
The Intimidator or "Timmy" was a poppet valve electronic marker that was manufactured by Bob Long and his company Bob Long Technologies. Introduced in 2000, there were six generations and over 28 versions of the Intimidator produced and it was a very popular tournament marker in its day. This one has an Atomic theme and is in good condition but needs some new detents.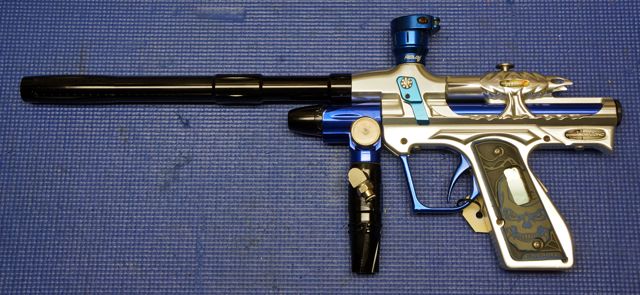 Planet Eclipse EGO
10 (2010)
Planet Eclipse started in around 1994 making parts for other guns and customizing Angels, AutoMags, and Autocockers. In 2002 they introduced the Eblade, an electronic trigger system for the Autococker that breathed new life into the Cocker platform. From there Planet Eclipse went on the build their own markers. The first EGO (EGO 5) was released in 2004 and proved to be a very popular poppet valve tournament marker. The EGO 10 was released in 2010.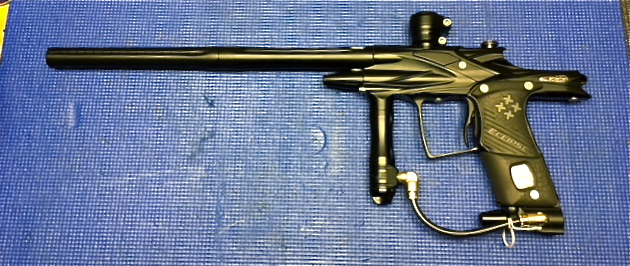 Planet Eclipse ETEK 3
(2008)
The ETEK was a cheaper alternative to the EGO and had less features but was still a very capable tournament marker. The ETEK 3 was released in 2008.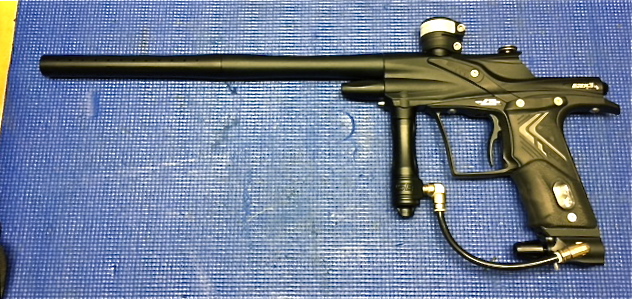 Proto Matrix
(circa 2005)
Built by Dye the Proto was the no frills budget version of the Matrix. It's one of the ugliest markers ever built in my opinion.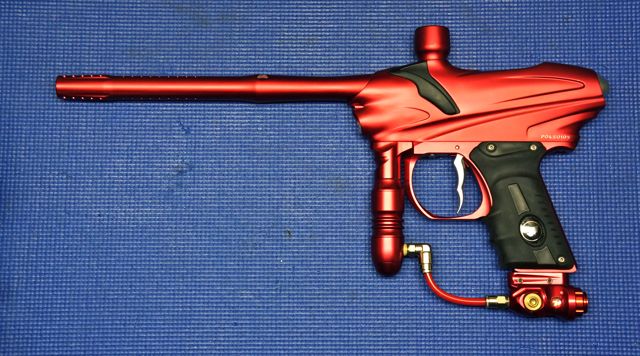 GI Milsim Nano
- 50 cal (circa 2010?).
50 cal found its place primarily in indoor rental play out here in Australia. It never quite took off with the general paintball population.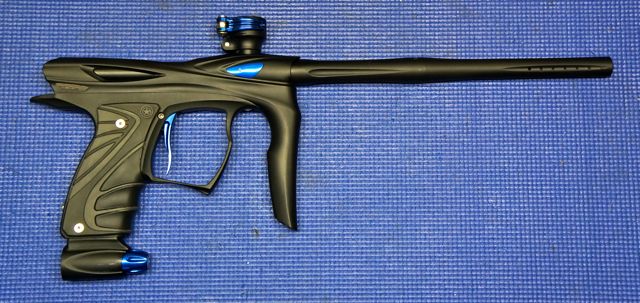 GI Milsim Impulse
- 50 cal (circa 2010?).
A poppet valve 50 cal marker by GI Milsim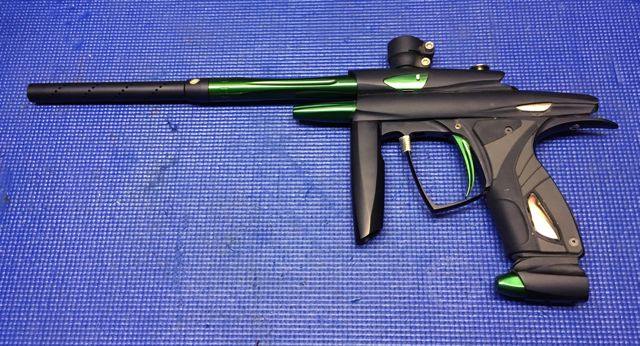 Level 7 Classic AutoMag
(circa 1990)
As it came off the field in 1995. Pretty stock apart from the splash ano, double trigger and Smart Parts wooden grips.
The Automag was released in 1990 by Airgun Designs. The man behind Airgun Designs was Tom Kaye who also developed the first constant air system in conjunction with Air America. As one of the first generation of semi-automatic paintball markers, its blow forward design was unique. Made mostly from stainless steel, the valve system was the first to incorporate a pressure regulator directly into the marker.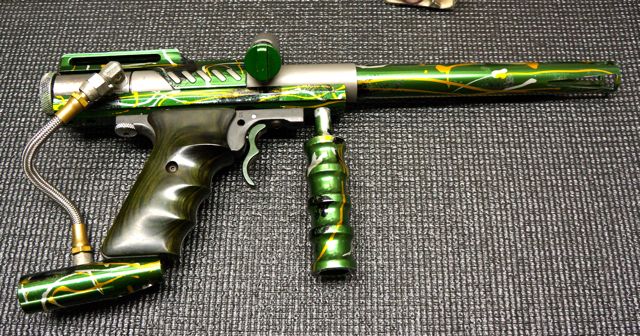 E-mag
(circa 2000).
The E-Mag is an Automag with an electronic sear release. Like other Automags, it has gone through different versions corresponding to advances to the Automag platform like the ReTro Valve, the Level 10 anti-chop system and the X-valve. Unlike many electronic markers, the E-mag is capable of firing in both electronic and mechanical modes through means of a readily available selector switch.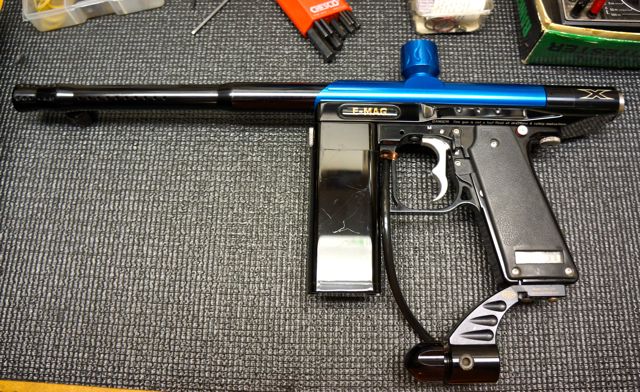 Air America Apocalypse regulator
fitted to 3000psi 112 cubic inch tank (circa 1995)
The granddaddy of all constant air systems, the Apocalypse regulator is nearly identical to the regulator fitted to the Automag. That's not surprising since Tom Kaye had a hand in both.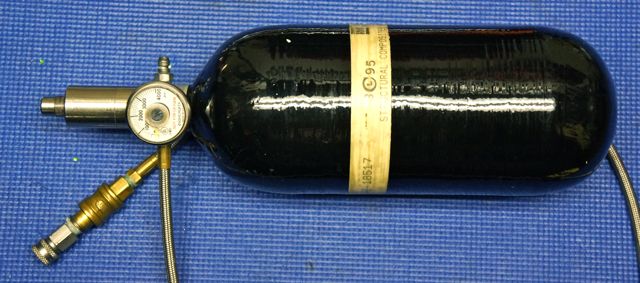 Australian Perentie Badger Prototypes
The Australian Perentie Badger was made in the early nineties just outside of Melbourne. They utilize a blow forward design similar to the AutoMag. Only a few hundred were made most of which were rental models.
1. At the top is a prototype barrel and breech assembly.
2. The frame on the right is all that remains of the first working prototype Badger.
3. The three power tubes include a later prototype at the top and two early production models.
4. The trigger is an early production model.
5. The three bolts are various versions for early hi pressure Badgers.
6. The two hand milled frames on the left were preproduction models for the early sand cast frames.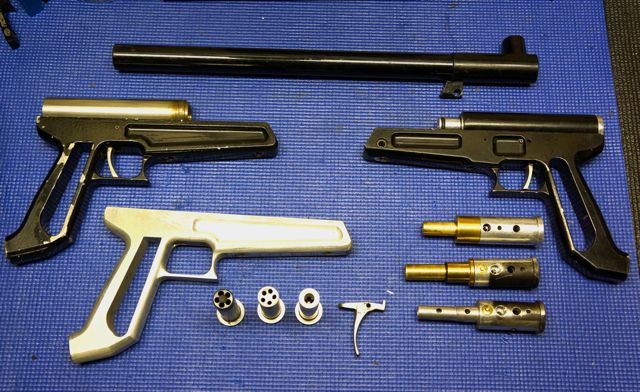 Late Model Perentie Badger
(1995)
This is a late model rental Badger with a die cast frame (early Badgers used a sand cast frame). These used the pin valve on the C02 bottle as a gas regulator. An interesting bit of lateral thinking to keep costs down.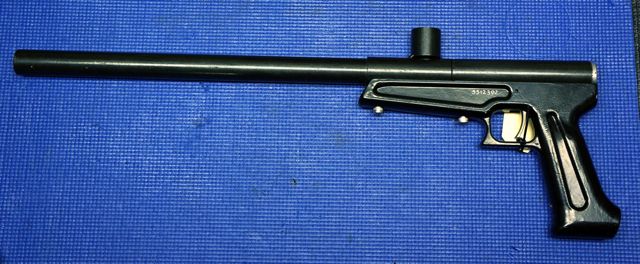 Early Custom Perentie Badger
(1993)
This is the first custom Badger made by Perentie and features a leather grip and alloy stock. The original internals ran at full bottle pressure. It was later modified to run at a lower pressure and use an external regulator for velocity adjustment.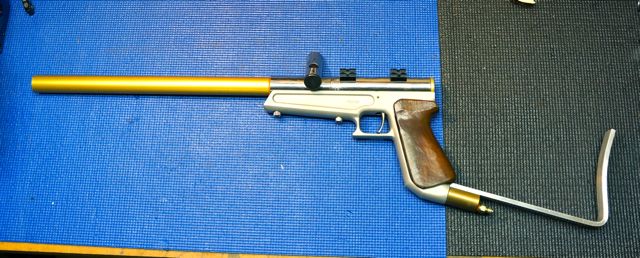 Custom Perentie Badger
(1995)
This is one of the last custom Badgers produced and features a lightened frame, vertical feed, teardrop AutoMag barrel and wooden grips. It uses a Palmer reg. for velocity adjustment.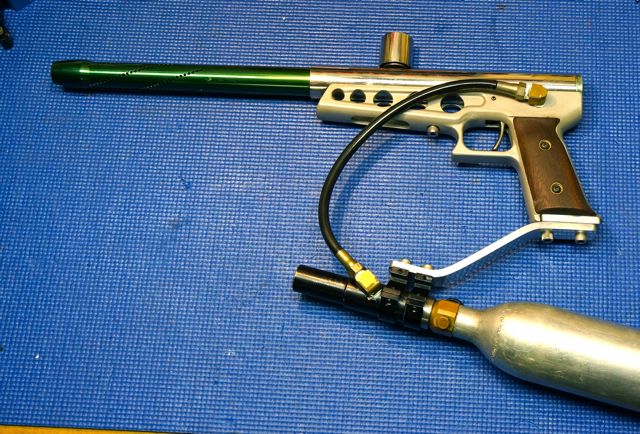 Custom Perentie Viper
(1995)
This one is a one of a kind double barrel model. It consists of two Badgers turned sideways and fires one shot after the other when the trigger is pulled.