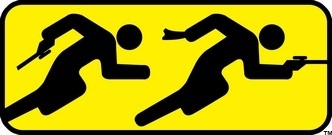 ​
Gear up for
competition
and
FUN
!
It's getting close! This coming Saturday (May 8) at Orbital!
The Fun is about to begin!
Bring your best game, bring your best smile!
The field layout will be enjoyably challenging. The other teams will make the challenge bonus enjoyable.
And, the temps are likely to be in the 70s most of the day. Nice!
Tip: If you want to make it smoother in the morning (only stopping up front to pay your Orbital field fee and get paint), head to the website and use the links to pre-reg and pre-pay the tournament fee.
2-man/10-ball Tournament
at
Orbital Paintball in Thonotosassa, FL
on
Saturday, May 8, 2021
.
It's simple
: 2 vs. 2; each player has 10 balls; each team has a flag.
- Win the game by getting the flag across the field or by eliminating both players on the other team.
- Win the match by winning 3 out of 5 games.
- Win the tournament by playing well, keeping a good attitude and – well, winning.
Feel The Rush!
Feel The Challenge!
That happens every game!
Call a friend
and
Register today
by using
this Google Forms link (best)
, PMing me or E-mailing me.
The entry fee: your Orbital field fee, a bag of paint (for the team) plus $18 per team. What's not to like!
First Prize: The fabulous, crystal Orbital trophies and the way-cool custom "Champions" t-shirts.
There might be two divisions: newer players (no or little tournament play) and experienced players (tournament backgrounds).
For details and rules, click here.
Notes:
-- Sign-in starts at
8:45am.
-- This is a FPO event. One bag per team is usually enough. Several grades are available.
-- Play with whatever airgun [marker] you are comfortable with [pump, semi-mechanical, semi-electro, whatever].)
-- If there are 2+ teams of non-experienced players, there will be a Not-Experienced-Players tree/division.
-- This is a double-elimination tournament.
-