Lets admit it we all want to do something awsome with out markers. But most of the time, we dont have the money, the mod has already has been done, or it is to complicated. Well, ill will present to you my project. By using a custom mounting rail a hevey peice of metal picked from Home Depot, stronger than agd's aluminum, but much smaller. Ii will mount the warp directly behind the trigger frame, and then the eggy3 will provide as my stock. I will hold the stock(eggy3) in the warp with further layers of tape, and tightening the warp more. The warp feed tube will cross on the back side of my right hand wrist, passed the external parts, and into my xsv clamping feed neck. Next is the barrel, it is a whisper, with an apex, I own all freak inserts to provide perhaps the most accurate barrel system on the earth. For my air sources, I will have two postions my "speedball" and my "woodsball" both will be on mykxsv drop. Speed ball will have the tank faced in a reversed manner, because I no longer need the tank (im using my eggy3 has support) this will also help balance the marker out. My woodsball marker postion will feature the on/off turned the right way running a remote into my marine vest. UPS on the way, blade trigger, and a vavle pin. Tell me what you guess think, I also need alot of help with my airlines, how to take apart etc. Ive never done it before :blush:
Also the dates on my camera are off... dont worry about them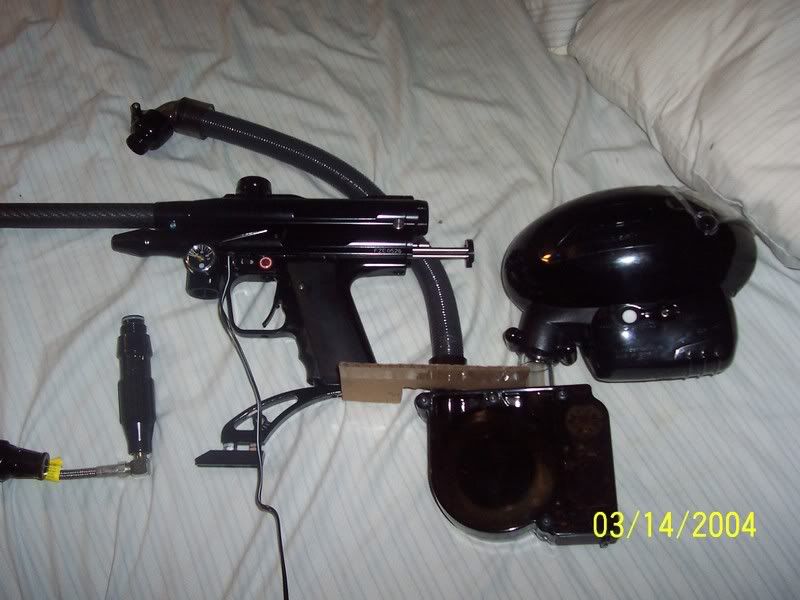 this shows the overall aperance of the marker, the warp behid the grip, and the eggy3 into my shoulder
https://i22.photobucket.com/albums/b309/bio...6/100_14651.jpg
showing it with the reg, semi on
https://i22.photobucket.com/albums/b309/bio...6/100_14661.jpg
the mount pattern, im making the real mount this sat. with my dad
https://i22.photobucket.com/albums/b309/bio...6/100_14671.jpg
better view of the hopper/stock
https://i22.photobucket.com/albums/b309/bio...6/100_14681.jpg
the barrel system... nice isnt it?