Just got this a month are two ago in trade, and I really dont see myself ever using it. I intended to build a custom woodsball gun out of it but I cant get around the meager detent system that gets over whelmed by my force feed hoppers..
So.. This has got to go, its taking up to much real estate on my workbench/gun wall so its time for it to find a new home..
Specs
- WAS board , currently set up on semi but it has ALOT of other mode.. I have the instruction pamphlet for it as well
- Rufus Dawg center feed adapter, with DM6 feed neck screw.. amaze your friends, confuse your local agglets, be amused by this sentence!
- Smart parts Q-rail and System X on off ASA
- Tech-T trigger blade style
- macroline instead of steel braided
- Non- ACT body
- Stock barrel that was cut down and re-honed.
- Cheater lives longer sticker
- ECAP "Chiba Skull" logo print on custom pro logo divit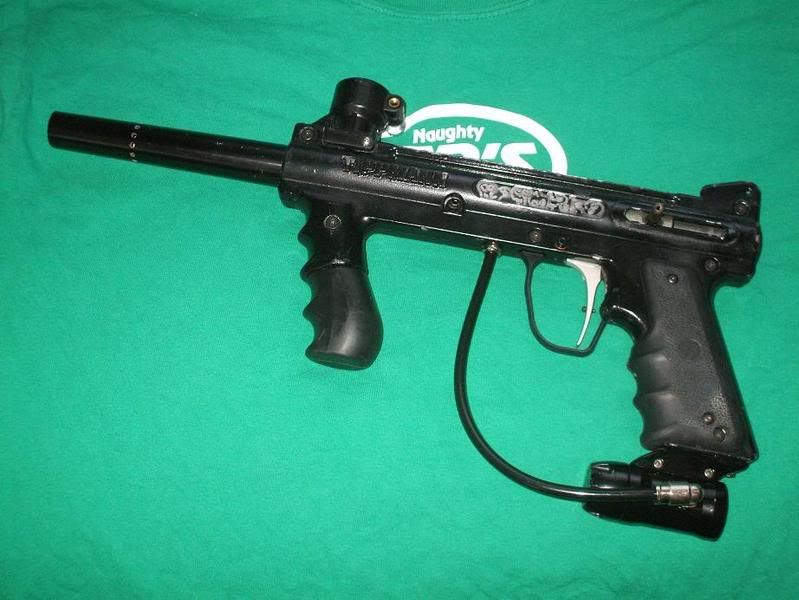 Price
-
$150.00 NEED THIS GONE!
Trades
- Stock alias timmy style boards LCD type
- Tadao infamous boards for alias timmy
- HPR of some sort.. CP, palmer fatty ect.. I need it for my Z timmy
- Flex 8 in the Sand color
- Pre-2k center feed cocker body
- Timmy parts
- benchmark slider cocker frames
- Venom wear items (packs, jerseys, and head wraps)
- Gloss black ultralites cocker threaded non-glued
- Velocity hoppers
- offer up worst I can say no
Trades I dont want
- blue items
- spoolvalve guns
- phantoms
- other tippmans