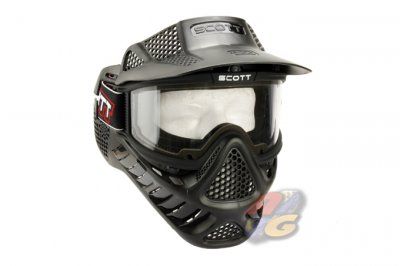 Picked this up from airsoftatlanta.com, comes with a dual pane thermal lens, bought a spare just in case. Everything came in at the ~$50 range. Breathes great, no fogging of the actual lens (glasses got kind of bad towards the end of the day) the foam is pretty basic wish it was a more dense. It would be an easy fix.
Took a few head shots towards the sides of the mask, didn't eat any paint, no nicks from shell.
The frames didn't fit my monster nerd frames too well, smaller frames would be fine. Lens switching is easy and lens is very secure.
At the end of the day, I have to say I like this mask a lot. I'm getting smaller frames purely for playing anyway, so no big deal.
Edit: I forgot to mention, I had to change the strap to my JT strap because it was made wonky. had a great bead of silicone on the strap, it gripped great, but the strap didn't adjust properly, it only tightened on one side. took all of 5 minutes to fix.