Rules:
- I do not ship first.
- PayPal is preferred, will also take M/O's. NO CHECKS!
- US Buyers are preferred, Canadiens will have to pay an extra small amount for shipping.
Hey guys I have a like new conditioned Stiffi Stif-Stik PATRIOT (American Flag) barrel for sale. There is hardly any wear on it, not even any tip wear. All the jewels are in tact. It has a .689 bore and is 12" in length (almost 13" if you count the metal back piece). It is a LIMITED EDITION barrel being 58/230 made. From Stiffi's website, "Patriot - In honor of America's 230th Anniversary. Numbered Collector's Edition." This barrel is pretty accurate and its amazingly light.
This is info coming straight from pbreview:
"SITE Inc., maker of the Stiffi barrel, has once again taken the paintball world by storm with its invention of the new carbon fiber patent-pending Stif-Stik™ barrel.
Available only at your local Stiffi dealer.
Designs are limited editions.
Weighs only 1.7 ounces: Lightest barrel in existence.
Patent-pending process creates a permanent molecular cohesion.
MicroJeweled™ bore
Engineered with Stiffi's famous aerospace quality processing
Proudly made in the USA."
Pics: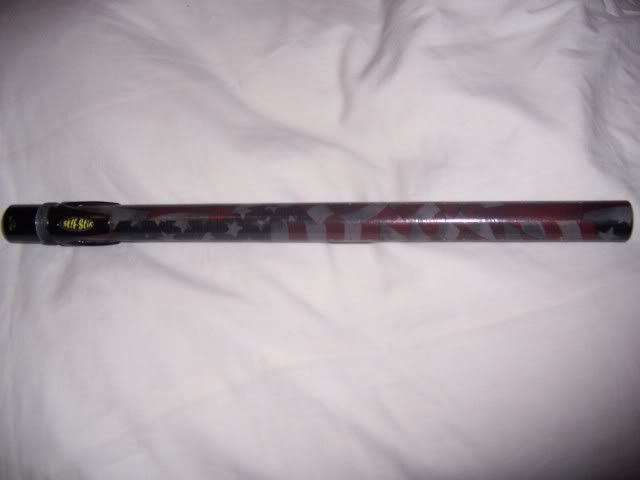 Price:
$65 shipped and paypal'd. These things new go for $110 without shipping.
I have 100% positive feedback so dont hesitate to do business with me.
Thanks for looking.