*Price includes USPS Flat rate*
Pbmaffia Hit Pack
These are great packs, very well built. I use almost exclusively Pbmaffia products if you can't tell.
It's used but given the Tag's lettering has worn off + very light stain I''ll give it a 8.5/10 condition wise. Otherwise It's in perfect shape. It's my backup pack that i don't use anymore and any flaws are merely cosmetic.
Price:
$35.00 obo shipped* and PayPal'd.
SOLD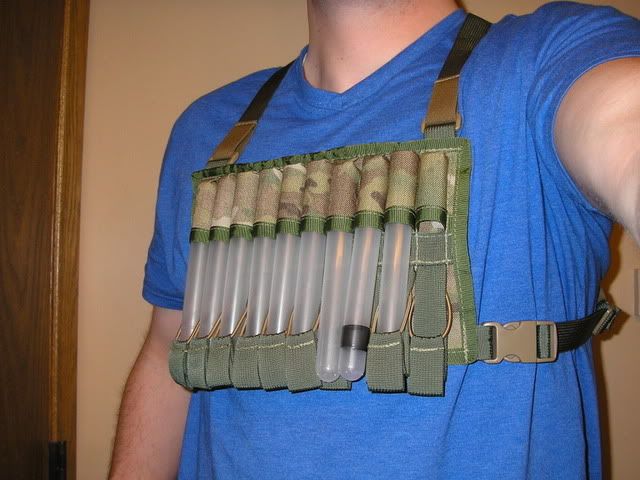 Maccann USA Custom Pack
I got a hold of Matt and had him put these together for me. They are very adjustable and comfortable to wear. They have one of those plastic strap guides where the shoulder straps intersect in the back. Built in elastic sections on the straps keep everything snug when your running around. V1 has elastic on top and bottom straps and V2 has them just on the top. The tube retention system is great on these. Not going to loose a tube. When your done loading you can stick em upside down and they go in pretty nicely so I had no real need for a dump pouch
Very slick design that works very well!!!
These will fit big guys! I'm 6'2" 275 with a huge barrel chest and there was lots of room to expand!
One has been used 4 times and the other maybe once just in case i get em mixed up but i think V2 is new.They"re kinda identical. Both look Nib.
Price:
$40.00 shipped* and PayPal'd ea or 70.00 shipped for both.
Both SOLD
First buyer gets free tubes.
*US only, Canadians will have to cover the difference in shipping.