Hello, I need to sell a few items.
Prices are shipped. NO Parting Out. NO PayPal
First up is my Bro's Phantom...Used but good condition shooting at 275fps. PENDING
Blue/Silver VSC 45 Phantom
Matte Silver 11in barrel
Polished Silver 14in barrel
15rd feed cut to 13rd
Silver CCI 12 changer
Blue 3.5oz Tank
CCI T-Stock
Phantom barrel Sock
Velocity Adjuster
Complete Detent Rings
Extra Phantom parts
$285 Shipped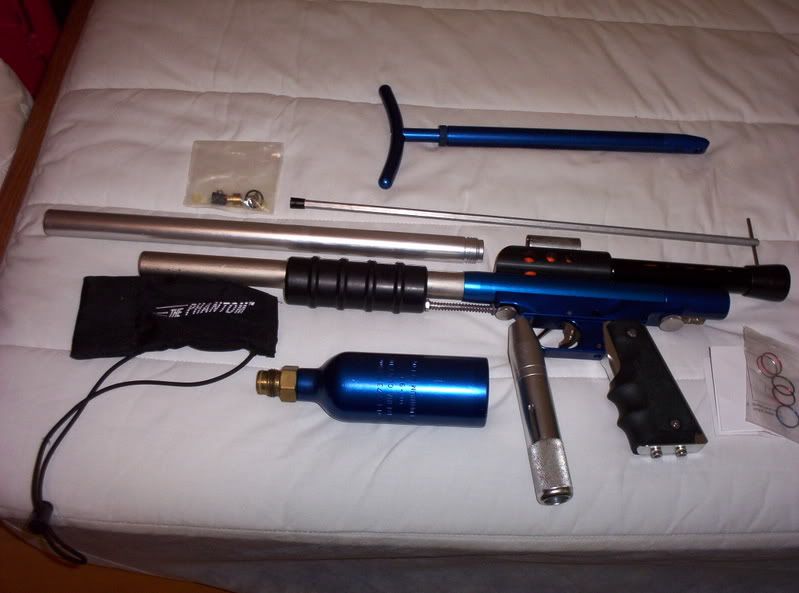 3rd Gerneration Dye Phantom barrel. 11.5in and It'll fit SC or other bodies. Mike rethreaded it himself. $65 shipped
Blue Phantom Right Feed Body w/sight rail $25 shipped
Black Phantom SC Breech $23 shipped
32* Whisper 14in Spyder Barrel w/case $25 shipped
Last, a Used Trracer uses springs to adjust velocity. Good condition, shooting 280fps with good paint. Comes with Pocket hopper. $45 shipped PENDING
Euro Grip Bottom Line adapter $20 shipped
Gas-tru T stock $20 shipped
No trades Please
Contact me with PMs or AIM JOESPUD27
Thanks for looking!
Jay