This is now for sale, not looking for trades (bought a mag, need to replenish the account)
Here is what's all included...
1) Short snub body (not ICD fer sure, for those it matters to)
2) 45 grip frame, drill for old school 1" attachment, plenty of meat if you want to tap in another hole at 3/4"
3) Original bolt, and super nice condition newer bolt
4) adjustable velocity hammer
5) A #4 SI powertube in an SI valve seat and cup seal
6) A stock 007 powertube in an SI valve seat with cup seal
7) Back bottle valve body
8) Constant air direct in valve body
9)
Lever changer with brand new (NOS) (lever guts lever side, not pierce pin side)
10) Three barrels... red 8 inch (for pointman setup) black 11 and 14 inch
11) Two pumps... One regular size, and one
Pointman pump
This is almost two whole guns (add body, frame and hammer, plus some screws and you have a second gun). The ano definately shows that this marker has been well used. The pump stroke is smooth and it shoots fine. In the first ten shots of a 12 gram (after two dry fires), with the 8inch barrel and lever changer it shot between 268 and 276fps.
All the field strip thumbscrews are there, and the bolt screws are stainless, though unfortunately not the SI stamped ones.
I tried to take the picture showing the worst of the ano wear, but if you'd like closer pics or a different angle I will do my best to satisfy.
Picture...
Pointman/Lever changer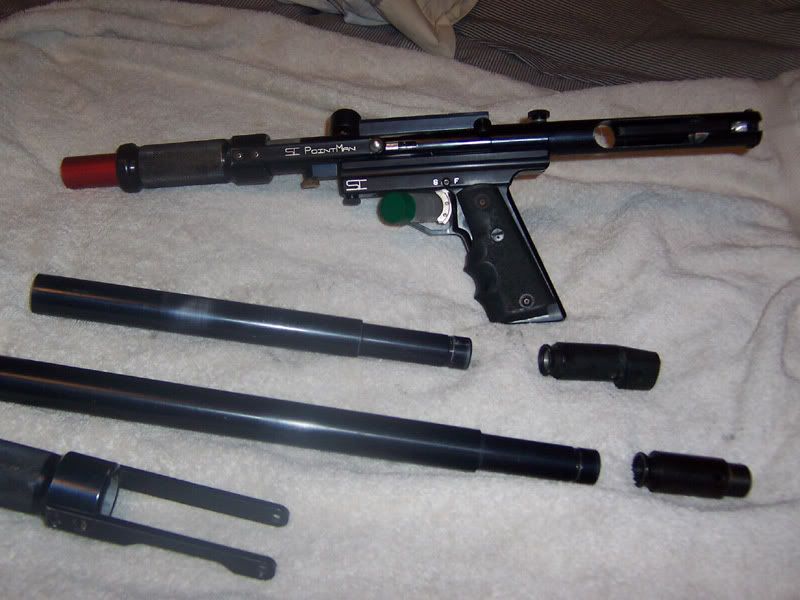 11" barrel/backbottle *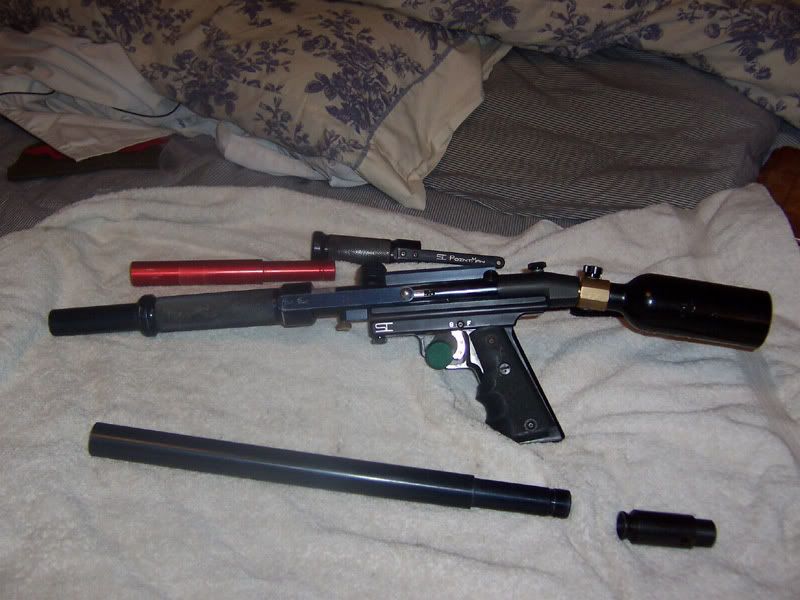 14" barrel/constant air (just picture a 7oz or 10oz thermo in there.... old school godness!!) *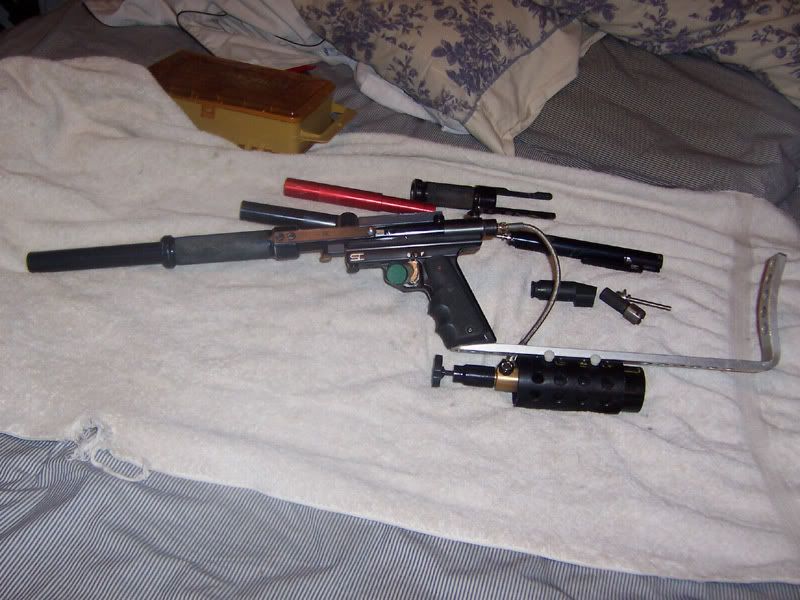 Seriously, this is about
the
complete bushmaster SI package.
The 3.5 oz and the stock are not included.
$300 + shipping by paypal or USPS money order. Please, no credit card paypal payments, I don't want to pay the sellers fees.