Cold War
Scenario Paintball War!
Tanks, Dune Buggies, Missions, Medics, Props, Bazookas and much more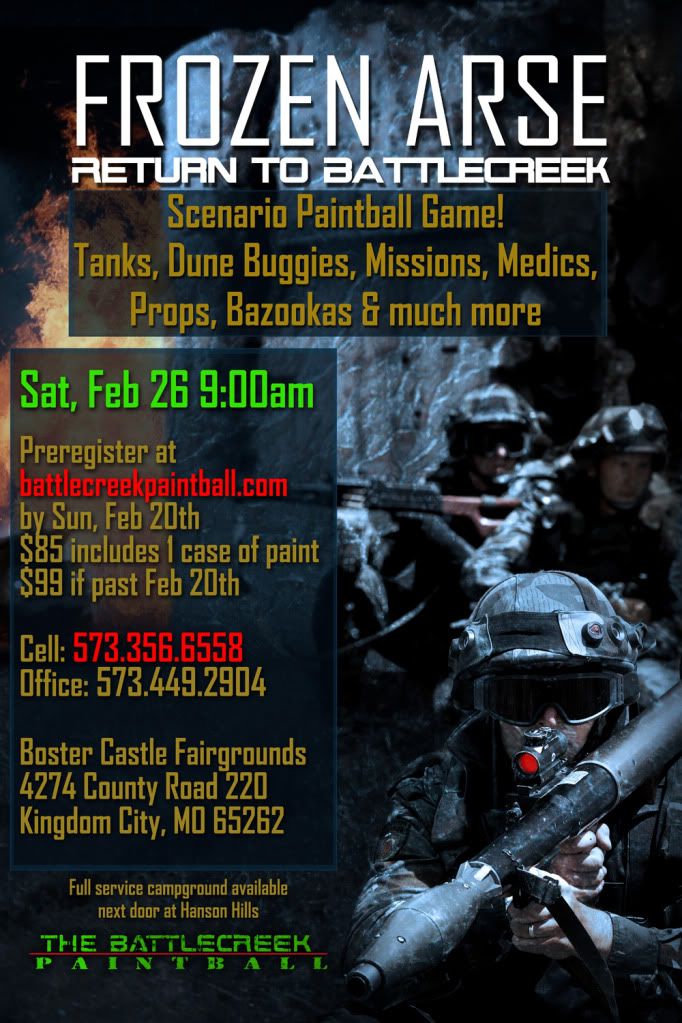 Preregister by Sun, Feb 20th - $85 includes 1 case of paint
After Feb 20th - $99
Register on our website at:
Battle Creek Paintball - Battle Creek Paintball
573-356-6558
Columbia, MO . Kingdom City . Fulton . Jeff City
Directions from Columbia, MO:
1 Head east on I-70 E toward St. Louis - go 12.9 mi
2 Take exit 144 (the Hatton exit) - go 0.2 mi
3 Turn right at top of the off ramp and head down the gravel road - go 1.5 mi
4 Turn Left at first Campground sign
5 Turn Left at second Campground sign
After passing 3 houses on your right, you will arrive at a metal building on the right (South) side
Park near the building and COME INSIDE BEFORE GOING TO THE FIELD!!!
4274 County Road 220
Kingdom City, MO 65262
Total: 14.9 mi - about 20 mins from Columbia