-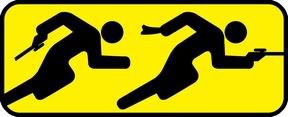 Imagine a game where it is down to 2 of you and 2 of them.
Imagine
everyone is down to their last few balls -
way, way
less
than most players would think about winning with.
Then,
you
start your move — and so does
everyone
else!
It happens! It happens every game!!
The Rush!!
The Challenge!!!
Feel it!!!!
The next
2-man/10-ball Tournament
will be held at
Genesis Paintball Sports in Odessa, FL
on
SUNDAY, February 28th
.
Call a friend
and
make a team!
Register Now
by PMing me, E-mailing me or using the
Website
!
Sign-in is from
9:00am - 9:35am on the morning of the tournament.
The first game is at
9:55am
.
Playing fee: a total of $20, which includes air.
Pay on the day of the event:
Notes:
-- This is a BYOP event; paint will also be available in the Pro Shop – usually, a team can easily split a bag.
-- CO2/HPA available (included in the tournament fee).
-- Play with whatever airgun [.68 cal. marker] you are comfortable with [pump, semi-mechanical, semi-electro, whatever].)
-- This is a double-elimination tournament: the winner of the zero-loss tree plays the winner of the one-loss tree in the finals.
-- Each team will play at least 6 games – many teams will play much more.
-- The format for the preliminary matches lets teams play often and still have recovery time between matches: one set is played to 3 points (winning a game is 1 point; winning 3 points [games] wins the set) against each team until you reach the finals. A match in the finals is the best of 3 sets against the other team (winning 2 out of three sets).
Bring your very best game - it's the only thing that will win!!
-- Pro shop, covered staging area with tables, drinks, burgers/dogs, Papa John's (delivers to site)
-