I have several new, unprogrammed Parallax Basic Stamp 2sx modules available. Great for learning microcontroller basics, robot projects, etc. These normally retail for $59 + shipping:
BS2-SX pricing @ Parallax.com
BASIC Stamp 2sx Module
BS2-SX pricing @ Digi-Key.com
BASIC STAMP 2SX MODULE - BS2SX-IC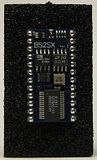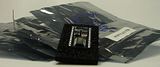 Documentation and software is available free for download directly from Parallax:
Documentation
BASIC Stamp Documentation
Software
BASIC Stamp Software
There is a tutorial on Warpig about using the Basic Stamp for paintball applications:
WARPIG - World And Regional Paintball Information Guide
I am asking $45 shipped each
or $40 shipped for MCB Premium members
(within the USA), and will give a discount if you would like to buy multiple units. I will consider shipping to Canada/Internationally, but would have to check shipping costs and legality. I will also consider trade offers.
Thanks for looking!