Hey all,
I decided to offer a first dibbs here on MCB, before going to Ebay. Below you'll see an assortment of items which I am prepping for sale next week, but you all get first crack at them. Shipping is not included, and I will entertain offers. Please under stand, there is a $10 minimum, less than that is a time killer for me. Most stuff is kind of firm, but I will entertain offers on all if it saves me from the hassle of ebay and is reasonable.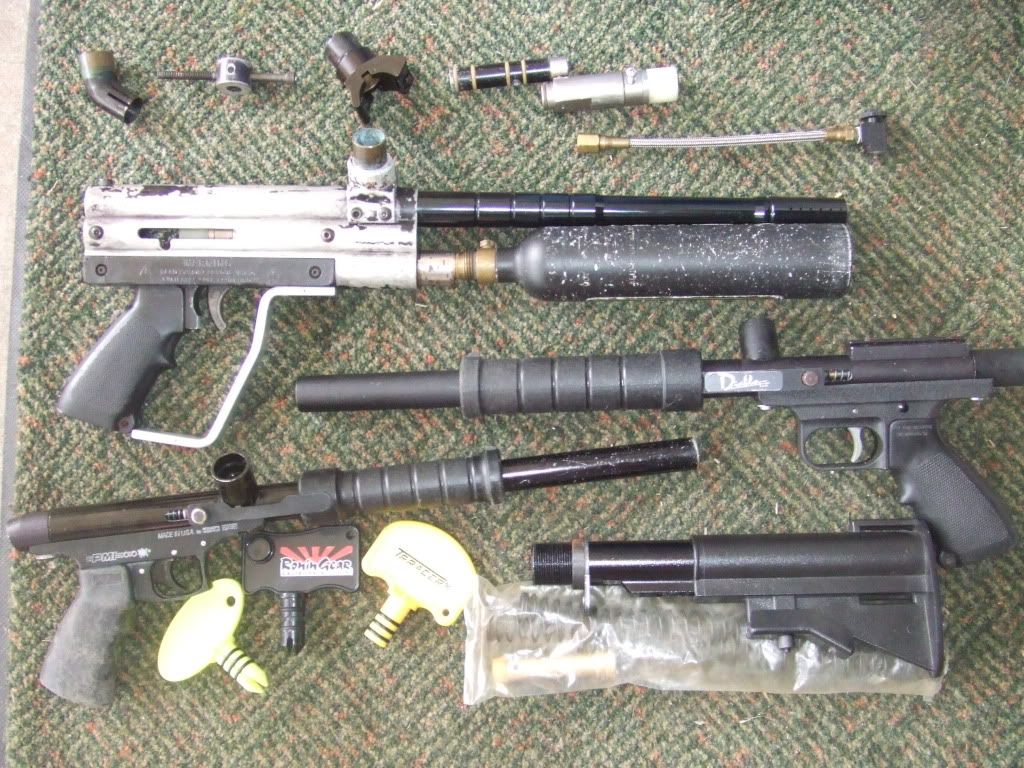 Top:
VM 68 /pmi3 copper feed elbow $10 alone, or $5 with another item.
VM68 large back plug and retaining bolt,NOW ON EBAY , link in my sig!
VM ball feed assembly (no ball detente fingers)$12.00
VM bolt and hammer assembly, factory and unmodified (very little use!) NOW ON EBAY link in my sig!
VM68 Magnum side air line with block and speed screw (never used, but a few marks from banging around the parts bin.) NOW ON EBAY
1993ish VM68 (Crossfire paintball field <Canada> engraved) rental-includes 7oz cliff co2tank, aftermarket barrel, venturi bolt, and valve adjustment tool(no picture), airs up and shoots, needs new magic fingers/ball detent (available through palmers @ $10each) and one screw for feed assembly. a good polish, some side covers (cracked but all there) and this will be very nice, half the work is done! NOW ON EBAY
Diablo Pump-airs up and shoots, no leaks,nice all metal mid range pump from the 90's, has two replacement screws. $65.00?
Bottom:
PMI Trracer former rental pump, airs up and shoots, factory internals,no leaks, has some replacement screws. $45.00?
CARR Stock :adjustable: (includes two buffer springs) bought new for vm project eons ago but never got around to it. $20.00.
This stuff will go up on ebay starting sunday, with some Monday or Tuesday, so don't put it off if there's something you need, just let me know and I will hold it for a short time if needed. Prefer cash via paypal, but will consider trades/partials for good working regulators (i need two), expired, but functional hpa tanks , other stuff??
pm or post with questions, offers, or to tell me im nuts, thanks for reading this far! ...