At first, a while back, I was going to make my VM to resemble the once promising HK G11K rifle (
https://www.hkpro.com/g11.htm)
. After a while, I decided not too. But now I have begun to mod her. I am not sure what the final product will be, but it will look badarse. I hope to finish this project before I ship out in July.
I have mounted a Q Loader on to the bottom of the large trigger guard. The pod is tucked away nicely, and there is no side-to-side profile. I utilized the 98C mounting bracket I got with my system. Of course, with the Q there, where's the ASA to go? Well, I plan on making an air-thru stock, with some sort of reg hidden inside. I will be buying a J&J barrel off of another VM owner, to replace the old brass one I have (which I will still use occasionally), and also be getting an autococker shroud to put on this beast.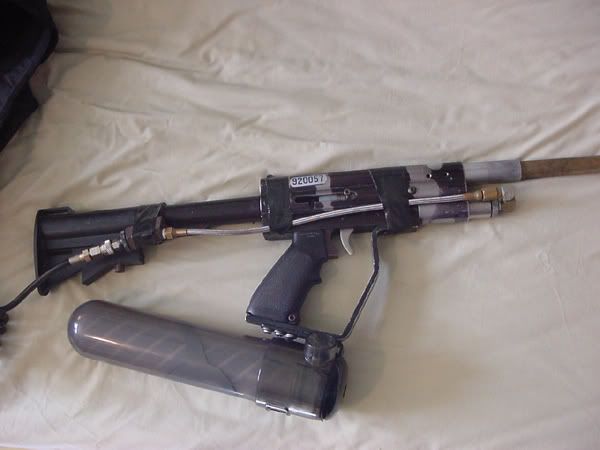 The air line is currently ghetto-rigged, so obviously it isn't permanent. However, that is how I hope to line it up when it's all finished. I will be talking to yet another VM owner who has made his own stock and some other pieces for his VM. He took off the plastic bars above the trigger and mounted a stock using those holes. (
https://www.pbnation.com/showthread.php?t=1856421&page=3
) So I may get a stock made to go there, and wind up have a longer L Bracket fabricated for the Q Loader, so that it sits more forward and has enough clearence for the stock that I plan on mounting.
So, yea. This is really my first true modding project. I have always upgraded two of my other markers by using bolt-on parts, but this will be my first trek in to having custom-made parts.